Tuesday January 13 2009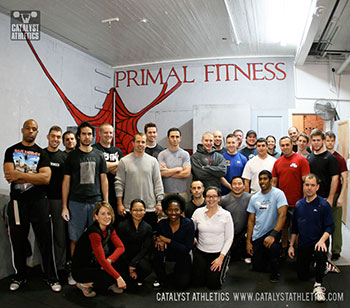 Please
login
to access our training programs.
Registration is FREE!
Questions? Get answers here or post in comments.
30 Comments
Please login to comment!
Bo
2009-01-12
Greg -

I'm considering using creatine as a supplement. I have a few questions, though.

1. Do you use it?

2. Would it be unhealthy for me to use because I'm 16 years old?

3. How much should water consumption be increased due to the increased stress on the liver?

4. As creatine retains water in the muscles, would my ideal bodyweight still be 69kg (170cm tall), or should it be increased because of the water weight?

Thanks alot.
Jesse Woody
2009-01-12
Awesome seminar as usual Greg, thanks a ton for coming out! I'll keep you guys updated as to our turnout at the comp next weekend, and will send some pics your way as soon as we get them.
Matt H.
2009-01-12
Are the percentages based on snatch and clean 1 rm or power snatch and power clean 1 rm?

Thanks
Mike
2009-01-12
Since I dont know my P.S. and P.C. PR's, is it safe to say that my best for both would be approx. 80% of max SN and max C+J? Then just take 80% of that 80% for this workout? Thanks.
Greg Everett
2009-01-12
Bo - 1. Yes2. Unless you have liver or kidney problems, you should be fine.3. As much as needed. If your urine is the color of a basketball, drink more.4. You may not get much increase in water weight. I don't, and I've yet to encounter many people who see dramatic weight increases. Generally I see maybe a pound or two at most (and that's in larger men - 185 lbs+). Try it and see what happens to your weight and decide then. It's definitely not going to bump you up a weight class itself.5. Try using it for 2 weeks at a time, then taking a week off. The latest literature I've read suggests that will get you "saturated" and then "reset" for more saturation. It appears that longer-term consistent use actually results in less retention.
Greg Everett
2009-01-12
Matt - Power. Always of the associated exercise unless otherwise noted.
Greg Everett
2009-01-12
Mike - Yes, that will be close enough for now.
Duke
2009-01-13
Greg and Aimee-

I want to add my thanks for a great seminar this past weekend. The technique instruction and feedback I received was more than worth the price of admission. The coaching cues I learned are invaulable. I will definitely recommend your seminar to everyone I know who is interested in learning the Olympic lifts, improving their Olympic lifting technique, or just learning more about strength-based fitness.

Thanks again.
Greg and Aimee
2009-01-13
Thanks for the wonderful seminar this weekend. The amount of information I learned is incredible. Not to mention the 102 page excerpt from your book will be great to look back on to remind myself of the certain cues. Hopefully this summer I can take a trip out to SF to train with you guys some more.

Regards,
Ryan
Ryan
2009-01-13
and that comment above should say Ryan....not Greg and Aimee errr
Aimee
2009-01-13
thanks! it was a great time!
Maiko
2009-01-13
Thanks to Greg, Aimee, and the folks at Primal Fitness for the seminar this weekend! I had a great time and the only sad thing was only 4 ladies attended (myself included)!! I highly recommend the seminar to others as I learned a lot (and now have a lot to work on lol).

And I hope you're feeling better Aimee!!
Allen Y
2009-01-13
Greg,

DC in Jan, WA in Feb, then Ontario in March...Have you grown your own wings yet?
Chris Bullard
2009-01-13
Snatch: 115x1x3/125x1x3/135x1x3
Power Snatch: 155x2x3
Clean and Jerk: 155x2+1x3/165x1+2x2
Power Clean & Jerk: 185x1+2/190x1+2x2

CFHQ WOD: 45 Power Cleans @ 155#/90 Ring Dips
9:09
Bill
2009-01-13
Greg, thanks for the feedback on my video from the other day. I know you are busy and I sincerely appreciate the time you put into analyzing it. I hope you don't mind if I post a vid once a week or so. Thanks.
LT Barnes
2009-01-13
i have a quick question that i hope someone can answer for me, on the Power Clean and Jerk it says 80% x 1 + 2 x 3. what does that mean? is that on clean and then two jerks?
Veronica D.
2009-01-13
Greg and Aimee... It was GREAT meeting you two. I worked on my tall snatches this morning. I'm going to sit out the Bulgarian cycle to work on technique, but I'll definitely be back when the strength cycle comes around.

Jordan
2009-01-13
P Sn: 50kg
P C&J: 60kg

Metcon: 2:47
16kig KB
LisaAnne
2009-01-13
I have a question, too. 10 KB snatch (swing) - what does that mean? A snatch or a swing, or both? If it's snatch, do you do ten with each hand, or ten total? I guess it was more than one question. thanks!
Aimee
2009-01-13
LT-
80% X 1 + 2 X 3
means 80% for 1 power clean plus 3 jerks for 3 total sets.



Rossi
2009-01-13
PSN - 145
PCL - 205

MetCon: 30 jumping pullups + 10 KB swings (didn't read WOD correctly) = 6:32min
Matt H.
2009-01-13
P. Snatch- Tested Max = 160
P. Clean and Jerk- 175 (Only jerked twice, next time I'll get it right)

MetCon- 4:55

Greg thanks for answering my questions so far, and I have another one:

When you jerk for work sets, should you alternate lead foots or just go to the stronger/personally preferred side?

Thanks.
Eric Brandom
2009-01-13
PS - 180
PC+2J - 225
Metcon: 3:12
tom a
2009-01-13
PSn 105
PCl + J 165

MetCon 4:35
Steve Liberati
2009-01-13
Age=28
BW=185

PCJ: 145
PSn: 185

Metcon: 3:45.
Greg Everett
2009-01-13
LisaAnne - Swing-style KB snatch. Normally I wouldn't specify like that, but there have been questions before. 10 is the total between both sides - so 5/side.
Greg Everett
2009-01-13
Matt - If you are/want to be a competitive weightlifter, always use your dominant leg. For other sports or GPP, it's a good idea to alternate legs to prevent strength and flexibility imbalances.
LisaAnne
2009-01-13
Thanks, Greg. I wish I'd asked before I did it! Now I've looked at your video, but I was doing "regular" snatches, catching in a deep squat AND I did 10/side. I guess i got a little extra. Oh well!
donna d
2009-01-14
PSn 60#
PCl + J 75#

abwork instead of metcon, ran out of time.


Andrew Wilson
2009-01-18
105 Power snatch - 80% x 2 x 3
140 Power clean & jerk - 80% x 1 + 2 x 3

Get the App!
Catalyst Athletics programs are available through our exercise.com app. Unlimited access to all programs for only $10/month, or purchase programs individually for only $10 each!
Join the Group
Buy Programs
---
Tag Us!
Tag us on social media when you post videos and photos of your workouts!
#catalystathletics
Instagram: @catalystathletics
Twitter: @cathletics
Facebook: @catalystpm
---
Workouts Menu
Workouts Home
Read This First!
Workouts Help & Info
Exercise Library
Training Programs
Starter Program
Tomorrow's Workout
Text Only
Custom Program Design
Get the App
---
---