Saturday January 17 2009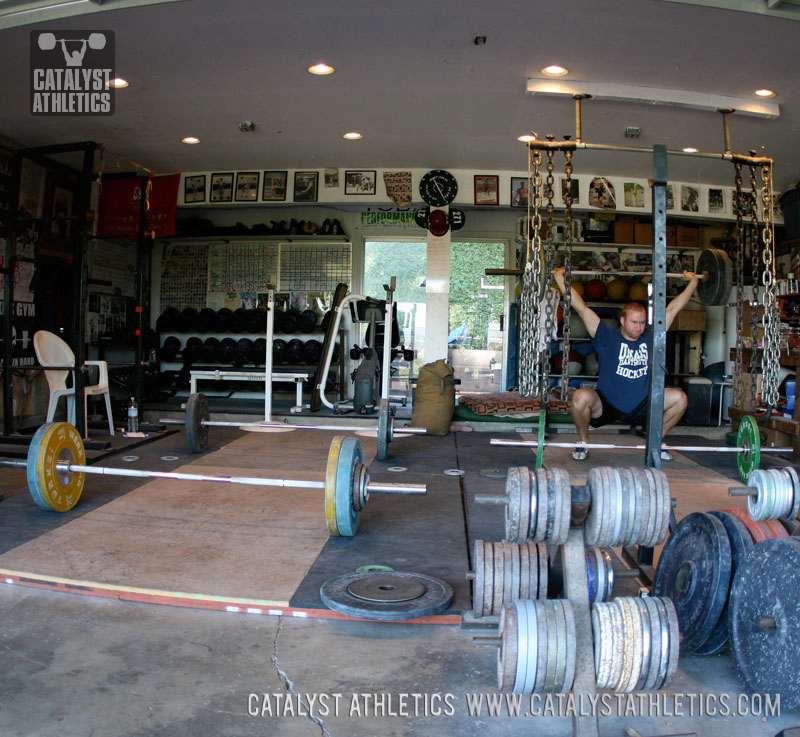 Snatch - 90% x 1 x 2
Clean & jerk - 90% x 1 x 2
Front squat - 90% x 2 x 2
Ab work of choice
Questions? Get answers here or post in comments.
10 Comments
Steve Liberati
2009-01-16
Its like the field of dreams for weightlifters!
Eric Brandom
2009-01-17
Sn - 202
C&J - 262
FS - 285

I'm really glad my gym finally got some fractionals.
Adam Scheiner
2009-01-17
Steve,(whispering) if you lift it they will come.


Oh man I can't wait to start these WODs in March! Happy lifting everyone
Rossi
2009-01-17
Sn - 155
C&J - 225
FS - 285

Was tired today
Matt H.
2009-01-17
Sn: 145
C+J: 175 (Failed at anything more)
Front Squat: 225 (Failed at anything more)

Felt very slow and weak and it got worse as workout progressed. I dumped 90% of front squat forward it felt like both of my shoulders were getting ripped off.

Somebody needs to bring me some ibuprofen and a couple ice packs while I lay on the couch and do nothing for the rest of the day.




ec
2009-01-17
sn - 122# (unfortuantely, they were pwr + ohs)
c&j - 145#
fs - 145#

fs still the glaring weakness.
Jordan
2009-01-17
SN: 65kg
c&j: 80kg
FS: 102.5kg
GHD sit ups: 20 x3


Steve Liberati
2009-01-18
Age=29
BW=185

Sn: 150
CJ: 185
FS: 280

3x15 hanging leg raises.
donna d
2009-01-18
sn: 50# shoulder issues
cj: 85#
fs: 115#

ghd sit ups 3x15

hey ec, stop the pwr and get your squat on....no wonder your FS and Bent Row are the same lbs. silly amazon.
Andrew Wilson
2009-01-22
120 Snatch - 90% x 1 x 2
160 Clean & jerk - 90% x 1 x 2
170 Front squat - 90% x 2 x 2
Workouts Menu
Workouts Home
Workouts Help
Exercise Library
Training Programs
Starter Program
Tomorrow's Workout
Text Only
Custom Program Design
---
---
Advertise With Us