Monday February 2 2009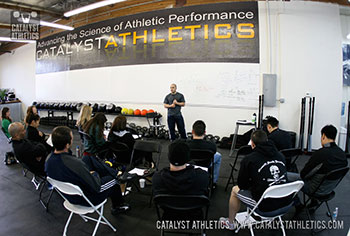 Muscle snatch - heavy single
Snatch - 80% x 1 x 3
Clean & jerk - 80% x 1 x 3
Front squat - 90% x 1
Weighted GHD sit-ups - 3 x 10
Bulgarian Cycle 1 Week 4
Questions? Get answers here or post in comments.
13 Comments
Simon
2009-02-01
First of all thanks for all of the great info contained on your site. I've been training with crossfit for about a year now and recently started following your program. My goal is to develop more power and increase my overall strength. The truth is i really enjoy performing the o-lifts, especially when i actually hit a solid lift! My experience with the O lifts has been limited to their occurence in the crossfit wod's. That being said my technique is inconsistent and in need of work. In particular I'm having trouble with the landing and the third pull. I have trouble getting my arms fully locked out and often find myself in the bottom position doing a press to get locked out. I've also been told that I'm not achieving full extension at the end of my third pull. Can you give me any training advice to help me correct these issues?

Thank you,
Simon M.
Greg Everett
2009-02-01
Simon - Why don't you post a video of yourself on the forum - we need more to work with.
Leo S
2009-02-02
Holy shit, Greg! That's the biggest sign I've ever seen in a CF facility.


Robb Wolf
2009-02-02
I can not recommend Dutch's seminar enough. If you really want to pursue training as a profession, if you want to integrate the CrossFit methodology into your practice to maximum effect, you need to attend his gig. Plus, you get to hear "fuck" spoken in a Texan accent like every 20 seconds. Worth the price of admission right there!

Seriously though, the seminar is excellent. I've modified how I run my classes because of Dutch's input.
Minh/M/5'9/173/Wy
2009-02-02
MSn: 143x1

Sn: 175x1x3

C&J: 221x1x2

FrSq: 265x1

Metcon: 2/3 of Fran... Death.
Rossi
2009-02-02
Muscle Sn - 135
SN- 150
C&J - 205
FS - 285

Aimee
2009-02-02
Leo-
it's not a sign- it's paint!
Matt H.
2009-02-02
M. Snatch - 150
Snatch - 145x1x3
C+J - 185x1x3
F. Squat - 255
Leo S
2009-02-02
Aimee - holy shit! That looks really sweet.
Did you guys get someone to do it or you can paint that good too?
Steve Liberati
2009-02-02
Age=29
BW=185

Ms: 175
Sn: 155
CJ: 185
FS: 295
Dutch
2009-02-02
Thank you Robb and Greg for your support.
I am just doing my part to make the fitness community better.
Rossi
2009-02-02
Any suggestions for sore wrists?
ADR
2009-02-02
Muscle snatch - 135#
Snatch - 140# x 1 x 3
Clean & jerk - 185# x 1 x 3
Front squat - 225# x 1
Weighted GHD sit-ups - 3 x 10 with 40# DB behind the neck
---
Workouts Menu
Workouts Home
Read This First!
Workouts Help & Info
Exercise Library
Training Programs
Starter Program
Tomorrow's Workout
Text Only
Custom Program Design
---
---