Monday March 2 2009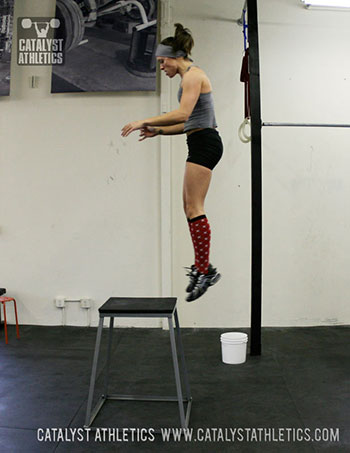 Back squat - 90% x 2 x 2
Snatch pull - 107% x 1 x 2
Press - 80% x 3 x 4
3 rounds for time of:
20 1-arm DB power snatch - 20% BW (10 reps each arm)
20 kipping pull-ups
Strength Cycle 2 - Week 4
Questions? Get answers here or post in comments.
10 Comments
Aimee
2009-03-01
that is the sweetest picture I think I have ever seen. and... i took it!
Chris Bullard
2009-03-02
S: 185x1,165x2x2
SP: 225x1x2
CJ: 226x1,210x1x2
FS: 285x1x2,271x2x2
BS: 285x2x2
Snatch Balance+3OHS: 155,175,185

Metcon: 7:14
Tony Springman
2009-03-02
That is an awesome picture. Is that a 24\"? Nice vert with little or no knee bend on the landing. Again, cool picture.
Greg Everett
2009-03-02
Tony - She's actually coming off the box in that photo.
Fred Fialco
2009-03-02
Greg - thanks putting out an article on the starting position. Not a lot of good info on this out there, so your piece is welcomed and helpful.
Erik Blekeberg
2009-03-02
Hey Greg,

Nice article dude. I often find start position is determined by varying body proportions. Hence why we have seen varying starting styles with special mentions to the frog style. Keep up the good work man and take care!
Greg Everett
2009-03-02
Erik - The start position will look a bit different depending on proportions, but it doesn't need to stray from the basic criteria - proportions is usually an excuse by tall guys who don't want to spend the time to learn and perfect a better start position, which will be a bit tougher for them.
Rossi
2009-03-02
BS - 410x2x2
SnPull - 205x2x2
Press - 135x3x4

Metcon 12min. Kips slowed me down
ken c
2009-03-02
44/6'1"/185

front squat 285 x2x2 (did back squat on saturday)
snatch pull 205 x2x3
press 155 x3x4

metcon:
15 155lb. squat clean and jerk

1:49

ADR
2009-03-03
Back squat - 90% x 2 x 2 - 275#
Snatch pull - 107% x 1 x 2 - 190#
Press - 80% x 3 x 4 - 125#

3 rounds for time of:
20 1-arm DB power snatch - 20% BW (10 reps each arm)- 35#
20 kipping pull-ups

5:04
---
Workouts Menu
Workouts Home
Read This First!
Workouts Help & Info
Exercise Library
Training Programs
Starter Program
Tomorrow's Workout
Text Only
Custom Program Design
---
---