Tuesday March 10 2009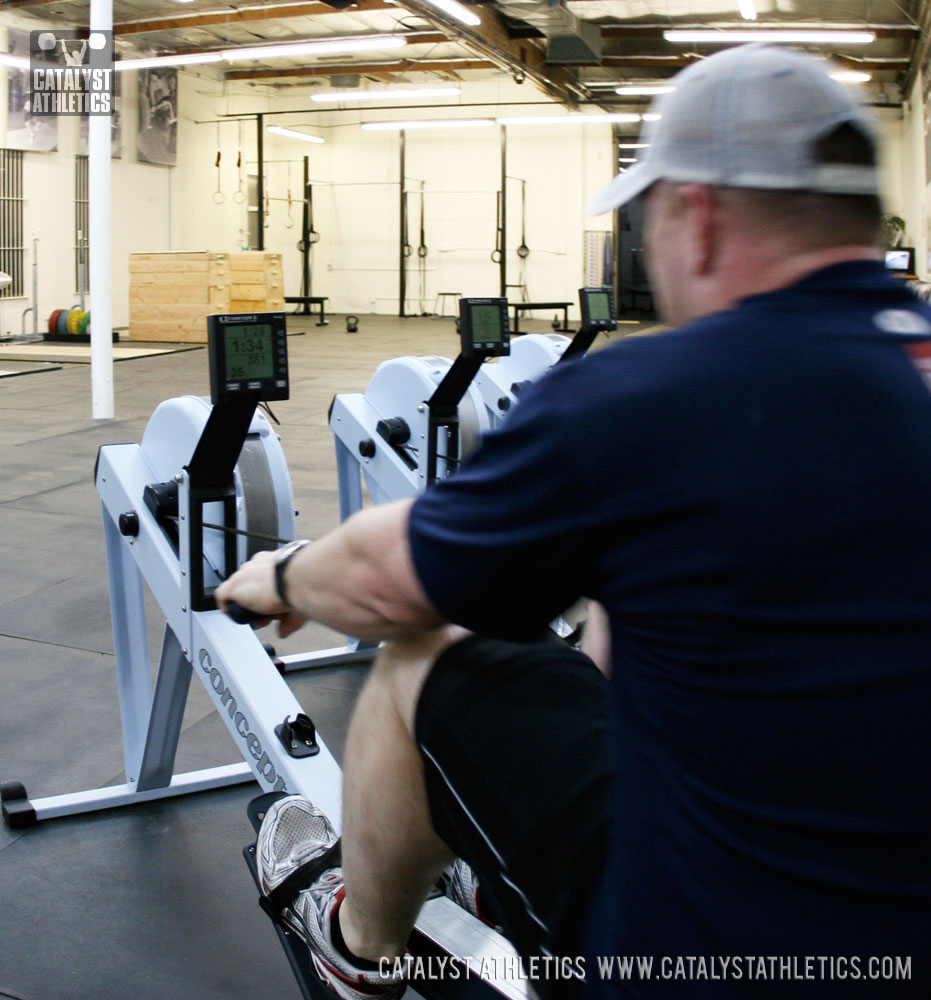 Muscle snatch + 2 OHS - heavy MS single
Snatch - 80% x 1 x 3
Clean & jerk - 80% x 1 x 3
20-15-10 reps for time of:
Push ball
Kipping pull-ups
Questions? Get answers here or post in comments.
8 Comments
JulieM
2009-03-10
Good Morning!

What is Push ball?

Thanks!
Julie
ADR
2009-03-10
It's similar to wall ball, but without the full squat...only a push press. The description the exercises section has:

"Holding a medicine ball at shoulder height. Use a quick bend and return drive of the legs to initiate a launch of the ball. Follow through with arm extension, pushing the ball up to a target. Catch the ball following its bounce off the target, return to shoulder height, and repeat."

There is a video that may help in:
Exercises -> General -> Push Ball
ADR
2009-03-10
Muscle snatch + 2 OHS - heavy MS single - 125#
Snatch - 80% x 1 x 3 - 145#
Clean & jerk - 80% x 1 x 3 - 185#

20-15-10 reps for time of:
Push ball - 20# Ball
Kipping pull-ups
3:37
Rossi
2009-03-10
Muscle Sn + 2 OHS - 145#
Sn - 1 x 3 - 155#
CJ - 1 X 3 - 195#

MetCon - completed but no time

Kristofer
2009-03-10
What are you guys doing for a warm-up and cool-down? Or do you?
Kevin Parsons
2009-03-10
I do basically the same routine no matter what kind of lifting I'm doing. I usually warm-up with a dynamic warm-up followed by the Burg warmup. Their was a video of Greg doing a dynamic warm-up posted a few months ago but their is also a video of Aimee doing a dynamic warm-up in the general excercises section. Not sure if their is a video of the Burg warm-up on here, but I believe I have seen them on on youtube.

After tht sequence, I do 2-3 sets of increasing weight leading up to my first work set of whatever excercise is first.
jongb
2009-03-11
Muscle snatch + 2 OHS - heavy MS single =128lbs
Snatch - 80% x 1 x 3 =117lbs
Clean & jerk - 80% x 1 x 3 =166lbs

20-15-10 reps for time of:
Push ball
Kipping pull-ups
=3:54
ken c
2009-03-11
44/6'1"/185

muscle snatch + 2 ohs 165
snatch 155
clean and jerk 195

tried gwen for the first time. not so much a metcon.

15 at 155 (got 12. rested and then finished the last 3)
12 at 135
9 at 135
Workouts Menu
Workouts Home
Workouts Help
Exercise Library
Training Programs
Starter Program
Tomorrow's Workout
Text Only
Custom Program Design
---
---
Advertise With Us