Monday April 13 2009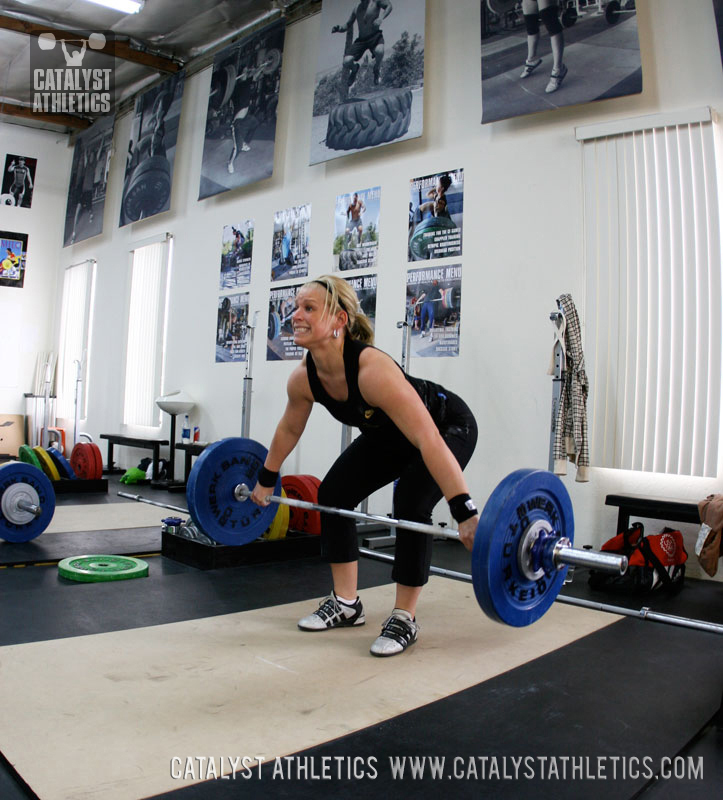 Snatch - 70% x 2 x 3
Snatch pull - 90% (of snatch) x 3 x 3
Snatch deadlift - 90% (of snatch) x 3 x 3
Front squat - 75% x 3 x 5
Weighted GHD sit-ups - 3 x 8
Questions? Get answers here or post in comments.
12 Comments
COS
2009-04-13

M/23/6'1/180

Snatch 115 x 2 x 3
Sn Pull 150 x 3 x 3
Sn Dead 150 x 3 x 3
Front Sq 185 x 3 x 5
GHD 15,25,35 x 8
stew douglas
2009-04-13
I've been lurking around the mainpage and the forums long enough so I thought it might be time to try a cycle!

Thanks much Greg and Aimee for the great site and resources.

Question about this cycle: This will be my first time trying the CA WOD cycle. I've been doing Gant's Hybrid for the past couple of months but with this 10 week cycle will there be a strength phase? Just wondering if a newb like myself will struggle more with this type cycle than with your previous 16 week cycles.

Thanks,

Stew.
Aimee
2009-04-13
Stew, you're welcome!
Mike Cundiff
2009-04-13
Sn 135
Sn Pull 175
Sn DL 175
FS 215

Wod with BP, GDH, Pullups
shawn
2009-04-13
Snatch 3x2 70kg
Sn.Pull 3x3 90kg
FS 3x3 112 kg

KB Swings 24kg + Ab Wheel 21-15-9
1.5 mile run


Jonathan Dunn
2009-04-13
Yee Haw! Glad to return to the fold after training for 12 weeks and then competing in my first powerlifting comp. After two weeks off, I'm ready to roll.

Snatch: 110 x2x3
Snatch Pull: 140 x3, 190 x3x2
Snatch Deadlift: 320 x3x3
Front Squat: 135 x3, 155 x3, 165 x3 and I'm toast
GHD SU: 50 x8x3
Seated Calf Raise: 100 x12, 155 x10x2
Warren Ruppart
2009-04-13
M/36/6'8"/240

Snatch 105
Snatch Pull 125
Snatch DL 125
FS 3x5@185

GHD SU: 3x8@+25

Kipping pull-up practice
Greg Everett
2009-04-13
Stew - You'll be fine on this cycle - it has a strength phase built in.
Lamarr
2009-04-13
new cycle looks interesting already. Can't wait to start it.

Great customer service as well from the store. All purchases arrived earlier than expected which is rare these days.

Thanks
Lamarr
JonGB
2009-04-19
Back on it after straining myself starting in the middle of the last meta-cycle...bad mistake. Starting in the right one this time...

Sn: 95 x3x3
Sn Pull: 115x3x3
Sn DL: 115 x3x3
FS: 115 x3x5

25lb GHD Situps (roman chair situps): 3x8


Iron Man
2009-05-26
Started today. Thought it better to start with day 1.

Snatch 139# x 2 sets of 3
Snatch Pull (lacked extension on 1, but god to a good shrug otherwise) 179# x 3 x 3
Snatch DL 179# x 3 x 3
FS 189# x 3 x 5
Weighted GHD supersetted with FS for lack of time w/25# x 3 sets of 8

Nice break from a lot of CF met-cons recently. Everything but the first wobbly snatch felt good. Breathing up on last 2... still a little late to work.

2 questions... if old comments are checked,
1 - Did I get the sets and reps right?
2 - Do people normally hit some calisthenics (CFWU) during the warm-up? I want to maintain strength and strength endurance for CF as I improve my oly lifts.

Sorry if these are repeat Qs, but i didn't find them in the FAQ.

Thanks,
Brett
Greg Everett
2009-05-26
Brett - 1. Looks like you got the sets and reps reversed. Check the info link at the top of the WOD (not the faq at the very top of the page).2. There are 2-3 metCons/week here
Workouts Menu
Workouts Home
Workouts Help
Exercise Library
Training Programs
Starter Program
Tomorrow's Workout
Text Only
Custom Program Design
---
---
Advertise With Us