Tuesday April 14 2009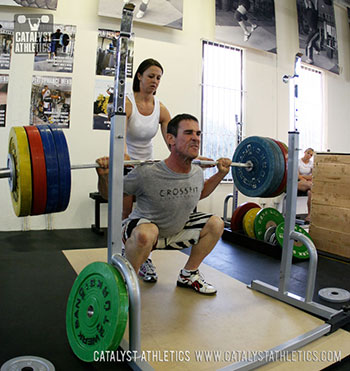 Please
login
to access our training programs.
Registration is FREE!
Questions? Get answers here or post in comments.
13 Comments
Please login to comment!
Robb Wolf
2009-04-13
Ben- Australian for Bad-ass!
BK
2009-04-13
Robb! Thanx mate.
Aimee, Thanx so much for your support and guidance while Janet and I were there , I really appreciate it. Not knowing what the hell I was lifting certainly helped...your place is off the chain, we love it.
The weekend spent with you along with Greg,Robb and Nikki was sensational, I can't tell you how much we respect you and cherish you as good mates.


Mike Cundiff
2009-04-14
MS + 2 Sn bal: 145 (had problems with the Sn balance)
OHS: 165 x 1, 135 2 x 2
PC + PJ: 215 1 x 5

Did not have time for the MetCon.
Alex
2009-04-14
* Muscle snatch + 2 snatch balance - take to heaviest MS possible @ 132#

* Overhead squat - 80% x 1; 65% x 2 x 2 @ 175#, 135#

* Power clean + push jerk - 80% (of PC) x 1 x 4 @ 185

Metcon in 9:45.

2nd week back after recovering from surgery and being sick. I am very much enjoying the programming so far!
saulj
2009-04-14
Did a mash-up of Monday and Tuesday (all weights in KG):

MSn + 2 Sn Bal - 50
Sn - 50, 55, 60
Snatch pull - 65 x 3 x 2
Snatch deadlift - 65 x 3 x 2
Power clean + push jerk - 70 x 1 x 4

Jonathan Dunn
2009-04-14
MS + 2 Sn Balance: up to 125 (worked up slowly from just the bar... too many sets, but I need to grease my groves).

OHS: 135 x1, 115 x2 x2.

PC + PJ: 155 x1x4.

Close grip BP: 135 x10, 9 (2 sec pause at bottom).

BBL Curls: 95 x8,6.

MetCon: I'm too embarrassed to post. 3 months with no metcons has killed my fitness!

Greg, what can I do to speed up the stability of my shoulder girdle (the OHS really pointed out a weakness today)? I will be practicing ohs with my pvc, doing shoulder dislocates, wall slides and rotator cuff exercises, but i really need a lot more core shoulder stability/ strength. Thank you!
Warren Ruppart
2009-04-14
M/36/6'8"/240

Muscle Snatch: 135, 1 snatch balance, failed on second.

OHS: 125 x 1, 100 x 2 x 2.

PC + PJ: 165 x 1 x 4.

Had to modify metcon (sandbags in use...). 21-15-9 of: kipping pull-ups, wall balls (20# ball/10' target), kettle bell swings (1.5 pood/53#). Time: 5:45

Hmmm. I can muscle snatch almost as much as I can snatch. Guess I know what I need to work on!
Greg Everett
2009-04-16
Jonathan - Just keep up with the OHS and all pressing variations along with the mobility work.
JonGB
2009-04-20
Muscle snatch + 2 snatch balance - take to heaviest MS possible
95, 115, 135 (form was questionable on this one...)

Overhead squat - 80% x 1; 185
65% x 2 x 2 135

Power clean + push jerk - 80% (of PC) x 1 x 4 155


3 rounds for time of:
10 sandbag Turkish get-ups (bag on shoulder) - 30% BW
20 kipping pull-ups

Had to use a 1.5pood KB, made it awkward, that's my excuse: 10:48
Brett
2009-05-27
Muscle Snatch + 2 Snatch Balance to heavy

65, 85, 105, 125, 135# (missed 2nd snatch balance and redid both), 145# - felt like my knees were drifting forward on the landing of the first few snatch balances

OHS @ 165# x 1
OHS @ 135# x 2 x 2 (felt light)

Power Clean & Push Jerk @ 189#, 4 sets of 1 (didn't feel stable overhead on first, but got better)

Wrists and right elbow felt a bit beat up afterward

Will hit the met-con this afternoon, but have no sandbag and don't usually do TGU in met-cons... Am thinking of 30 air squats and 10 clapping push-ups with the 20 pull-ups each round in the park.

Question: This workout called for power clean and push jerk. The next one just says clean & jerk. Does this automatically imply a full squat clean and a split jerk?
Brett
2009-05-27
Forgot to say - Thank you very much for answering my questions yesterday, Greg.
Greg Everett
2009-05-27
Brett - "Clean" with no qualifier indicates a lift from the floor and received in a squat. "Jerk" with no qualifier indicates the athlete's chosen jerk style for maximal weight; this should be a split jerk 99.9% of the time.
Brett
2009-05-27
Met-con done at the Y after work.
Rowed 500m in 1'36" then eased pace for another 1'30"
DROM stretching

3 Rounds
10 Chest clap push-ups
20 Chest to Bar Pull-ups (kipped)
30 Air Squats

1st round was okay, finished in just over a minute, then... I don't know... lactate threshold?.. My heart was pounding out of my chest, but I should be used to that. Got plenty of funny looks.

7'45"

Get the App!
Catalyst Athletics programs are available through our exercise.com app. Unlimited access to all programs for only $10/month, or purchase programs individually for only $10 each!
Join the Group
Buy Programs
---
Tag Us!
Tag us on social media when you post videos and photos of your workouts!
#catalystathletics
Instagram: @catalystathletics
Twitter: @cathletics
Facebook: @catalystpm
---
Workouts Menu
Workouts Home
Read This First!
Workouts Help & Info
Exercise Library
Training Programs
Starter Program
Tomorrow's Workout
Text Only
Custom Program Design
Get the App
---
---