Saturday April 18 2009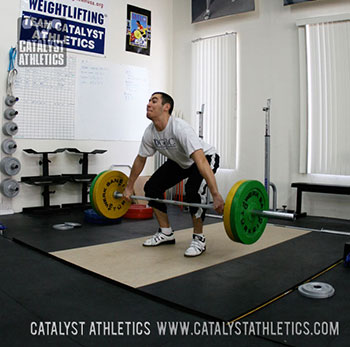 Snatch - heavy single
Clean & jerk - heavy single
Front squat - heavy single
25-20-15-10 reps for time:
Kipping pull-ups
Knees to elbows
Questions? Get answers here or post in comments.
5 Comments
Warren Ruppart
2009-04-18
M/36/6'8"/240

Snatch--Heavy Single: 140 (new PR by 5)
C&J--Heavy Single: 185 (failed jerk at 205 and 195)
Front Squat--Heavy Single: 215 (failed at 225)

(per definition of "heavy singles", I wasn't trying to hit failure. just figured I could hit my previous PRs at these. couldn't even come close. wow!)

Metcon: decided to add push-ups between pull-ups and K2Es (don't ask me why--I don't really know...). Time--11:49
Justin VanBeek
2009-04-18
Snatch- Personal Best is 232# but could only manage 208# today and missed 213 twice

Clean and Jerk - PR is 280 but struggled with 252 but got it on my second attempt

Front Squat- used 5 sets of singles ... PR is 305 but finished barely getting 264...

Got a LONG ways to go... give me a few more weeks and I'll be closer
Keith Miller
2009-04-19
Snatch - Heavy single - 80 kg
Clean & Jerk - Heavy Single - 100 kg
Front Squat - Heavy Single - 117.5, 122.5 failed

This is pretty good considering it's 3rd day in a row, I hauled about 1500 lbs of top soil around to the back of the house (40 lb bags on a 2 wheel hand truck through soft grass from rains) along with about 250 lbs of keystone bricks before working out today. Plus I'm only two weeks after competing in the National Masters meet. Not bad, they all felt pretty good.
shawn
2009-04-19
M/36/5'10/94kg
snatch 95kg (100kg)(attempted 102 missed twice out front)
c&j 120kg (130kg)felt good, but listened to body and stopped
front squat 140kg 3x1 (150kg)

PB'S IN BRACKETS


Jongb
2009-04-25
Snatch: 95, 135, 155(f), 145(f)
C&J: 95, 135, 145, 185
FS: 95, 135, 145, 185, 205, 225, 245

Metcon to follow...
---
Workouts Menu
Workouts Home
Read This First!
Workouts Help & Info
Exercise Library
Training Programs
Starter Program
Tomorrow's Workout
Text Only
Custom Program Design
---
---