Monday April 27 2009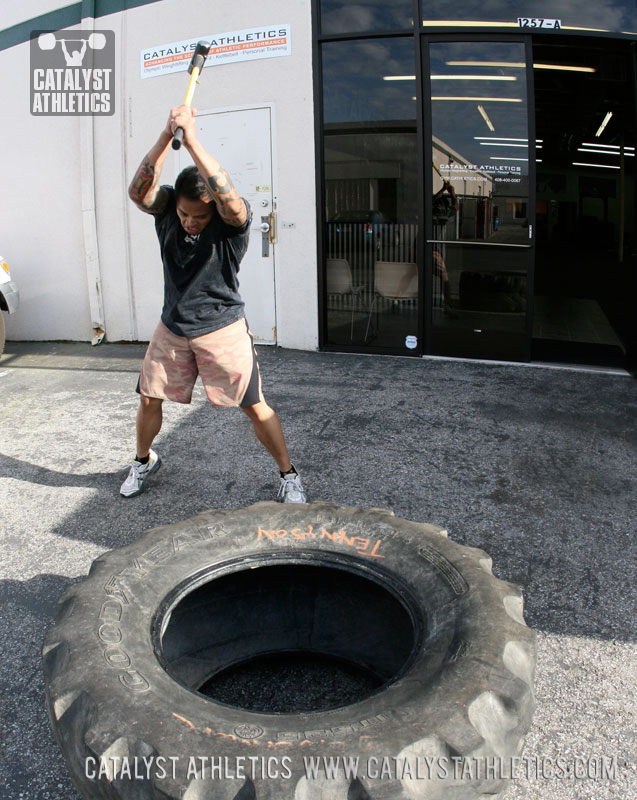 Clean & jerk - 75% x 1 x 3
Snatch pull - 97% x 3 x 3
Snatch deadlift - 105% x 3 x 3
Front squat - 81% x 3 x 5
Stiff-legged DL - 3 x 5
Week 3
Questions? Get answers here or post in comments.
8 Comments
Warren Ruppart
2009-04-27

Any desired/target weight range for the stiff-legged DLs?

Thanks, guys!
Red
2009-04-27
Hi guys,

Just a question, if I were to start on this programme, where would be the best place? I thought to go back to week 1?

Thanks in advance.
shawn
2009-04-27
c&j 3x1 97kg
sn.pull 3x3 107kg
f.sqt 3x3 120kg


jordan
2009-04-27
Monday April 27 2009

Clean & jerk - 60 kg
Snatch pull - 67.5 kg
Snatch deadlift - 72.5 kg
Front squat - 90 kg
Stiff-legged DL (60,80,80)
Jonathan
2009-04-27
C&J: 155 x1 x3
Sn Pull: 215 x3x3
Sn DL: 245 x3x3 (started turning toes out more, having knees to follow.... much easier to pull straight up than have to work around my long legs).
FS: up to 185 x3
SLDL: up to 275 x3
Seated calf raise: 125 x10, 170 x8, 6, 6.
Aimee
2009-04-28
Red-
Best to go back and start at week 1.

Warren-
If no weight is Rx'd, go to a weight that is a good weight for working sets. Not too heavy where you can't do them properly- medium heavy.
CHRISTINA VONRASSLER
2009-05-03
YOU GUYS ARE PROS!! CAN\'T WAIT FOR THE UPCOMING JUNE SEMINAR.
JonGB
2009-05-05
Clean & jerk - 150 x 1 x 3
Snatch pull - 140 x 3 x 3
Snatch deadlift - 150 x 3 x 3
Front squat - 185 x 3 x 5
Stiff-legged 185 - 3 x 5
Workouts Menu
Workouts Home
Workouts Help
Exercise Library
Training Programs
Starter Program
Tomorrow's Workout
Text Only
Custom Program Design
---
---
Advertise With Us