Thursday April 30 2009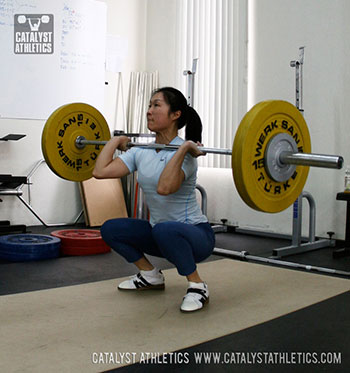 Please
login
to access our training programs.
Registration is FREE!
Questions? Get answers here or post in comments.
22 Comments
Please login to comment!
Drew
2009-04-29
Now im a little confused on what a jerk dip squat is. Is that holding the bar over head in a split position and squatting?
Greg Everett
2009-04-29
Drew - Bar in jerk rack position. Perform the dip portion of the jerk, stand up again. Not a speed movement, just a strength movement for that position/posture.
Matt Wichlinski
2009-04-29
http://www.youtube.com/watch?v=KqMJ0t5-D3Q&feature=channel_page

keeping up a fast pace in these lifts CF style, so form deteriorates a bit. Also working off some injuries, but what can i do to fix this stuff up? I see footwork problems and soft elbows or something.
Jonathan
2009-04-29
Greg,

Any specific height recommended for the box jumps?
Greg Everett
2009-04-29
Jonathan -as high as you can manage for that many reps/rounds. I'm not a big fan of short, spastic box jumps that really amount to the same thing as rope jumping while lifting the feel really high.
Greg Everett
2009-04-29
Matt - Biggest thing is that overhead position with the soft elbows. Stretch the fucking dogshit out of your shit. Also, with your snatch, take your grip out way wider (do it gradually so you don't fudge up a wrist). Split footwork can use some work too - you're splitting really short. Work the split transition alone in warm-up, some tall split jerks, etc to get more focused practice on it.
Matt Wichlinski
2009-04-29
Dogshit...got it, thanks dude, I think my behemoth biceps just won't let it go out. some of my clients use my bi's for box jumps, others just run laps around them
Greg Everett
2009-04-29
Matt - Yeah I don't have that problem. At all.
Andrew Makely
2009-04-30
jerk 185,195
jrk dip sqt 205, 215, 225
sn pp 135, 145, 155

metcon 4:31 35" box

My jerk strenght is weak!
However, I am happy with my jumping progress since I started oly lifting, not that its very impressive but its way better than it used to be for this white boy.
COS
2009-04-30

M/23/6'1/180

Jerk:
215 x 2 x 2
225 x 2 x 2

Jerk dip Sq:
240 x 3
250 x 3
250 x 3

Sn Push Press:
125 x 5
130 x 5
140 x 5 x 2

Jerks felt a little weak today, fatigued quickly. Jerk dips felt awkward, first time doing them.
Cory
2009-04-30
So no split on the Jerk. Just an overhead squat with your hands in C and J position?
Billy Badass
2009-04-30
My lats are so huge that international shipping vessels carry cargo with them...My calves are so massive I can't lay down on my back comfortably!! ODOYLE RULES!!
Alex
2009-04-30
Jerk..worked on form with my coach.

Snatch Push Press...worked up to 175#

Metcon; pull-ups were chest to bar and box jumps were 40 inches. Done in 4:00.
JP
2009-04-30
Greg,

Just had some jerk boxes built. They are in CFSD right now. Can't wait to start using them. Thanks for the specs!!
Greg Everett
2009-04-30
Cory - The Jerk has a split - it's a split jerk. The jerk dip squat does not have a split because it's not a jerk - it's just the dip portion. Found a video - jerk dip squat.
Greg Everett
2009-04-30
JP - Saweeeta. Your gym just got way awesomer.
stew douglas
2009-04-30
Jerk: 180x2x2 / 190x2x2
Jerk dip squat: 200x3/215x3/225/3
Snatch push press: 110x5/115x5/125x5x2

Metcon: to a 32" sawhorse "box" (ie sketchY)

time 3:55

Ah Greg, listening to the music on that jerk dip squat video makes me want to download 'pretty in pink' and grow a box cut afro all over again!
shawn
2009-04-30
jerk 105kg(230) 2x2 110kg(242) 2x1 (% of best C&J)
sn.push press 70kgx5(154) 75kgx5(165) 80kgx5(176)

kipps x5 + ring dips x5 7rds (did not time, just went back and forth until complete)
Timmy Tuffnutz
2009-04-30
I almost built jerk boxes, but I was lucky enough to find a stud with behemoth bi's to use instead...they work great, those behemoth bi's...
Jonathan
2009-04-30
Jerk: 165 x2x2, 175 x1x2
Jerk Dip Squat: 185 x3; 195 x3; 205 x3
Sn PP: 110 x5; 115 x5; 125 x5 x2
Metcon: 7 Rounds of 5 KPU + 5 32" box jumps: 4:48.
cory
2009-05-01
Greg-

Thanks..The vid cleared it up.
JonGB
2009-05-07
Jerk - 160 x 2 x 2; 170 x 2 x 2
Jerk dip squat - 170 x 3; 180 x 3; 190 x 3
Snatch push press - 95 x 5; 105 x 5; 115 x 5 x 2

7 rounds for time:
5 kipping pull-ups
5 (knee-high) box jumps
2:59
Get the App!
Catalyst Athletics programs are available through our exercise.com app. Unlimited access to all programs for only $10/month, or purchase programs individually for only $10 each!
Join the Group
Buy Programs
---
Tag Us!
Tag us on social media when you post videos and photos of your workouts!
#catalystathletics
Instagram: @catalystathletics
Twitter: @cathletics
Facebook: @catalystpm
---
Workouts Menu
Workouts Home
Read This First!
Workouts Help & Info
Exercise Library
Training Programs
Starter Program
Tomorrow's Workout
Text Only
Custom Program Design
Get the App
---
---