Saturday May 9 2009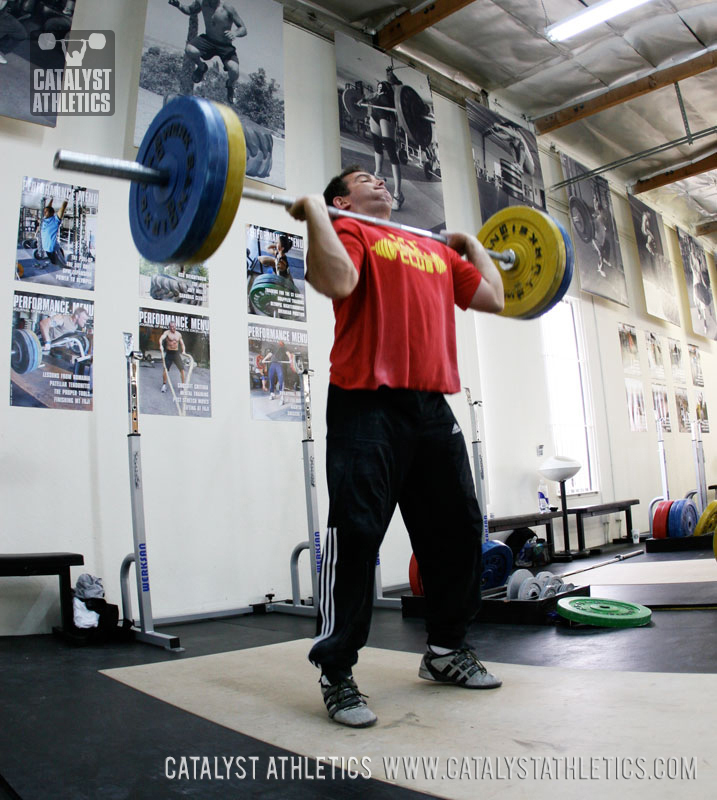 Snatch - heavy single
Clean & jerk - heavy single
Front squat - heavy single
If your heavy single for your snatch or CJ is 85% or less of your best, drop to 90% of that single for 1, then 80% for 3 more singles.
3 rounds for time:
"Max" kipping pull-ups (as many as you can perform uninterrupted)
10 box jumps - mid-thigh +
Questions? Get answers here or post in comments.
2 Comments
shawn
2009-05-10
snatch 90kg 1x1,80kg 3x1
c&j 120kg 1x1
pwr.c&j 105kg 3x1

3 weighted pullups
5 strict chins
7 kipps
3rds

compound set
weighted dips 10-8-6
pushups 3x15
Jongb
2009-05-16
Snatch - 115
Clean & jerk - 185
Front squat - 205


3 rounds for time:
"Max" kipping pull-ups (18, 5, 4 reg pullups)
10 box jumps - mid-thigh + (knee high...only other was waist high...not that excited)
2:02
Workouts Menu
Workouts Home
Workouts Help
Exercise Library
Training Programs
Starter Program
Tomorrow's Workout
Text Only
Custom Program Design
---
---
Advertise With Us