Tuesday May 12 2009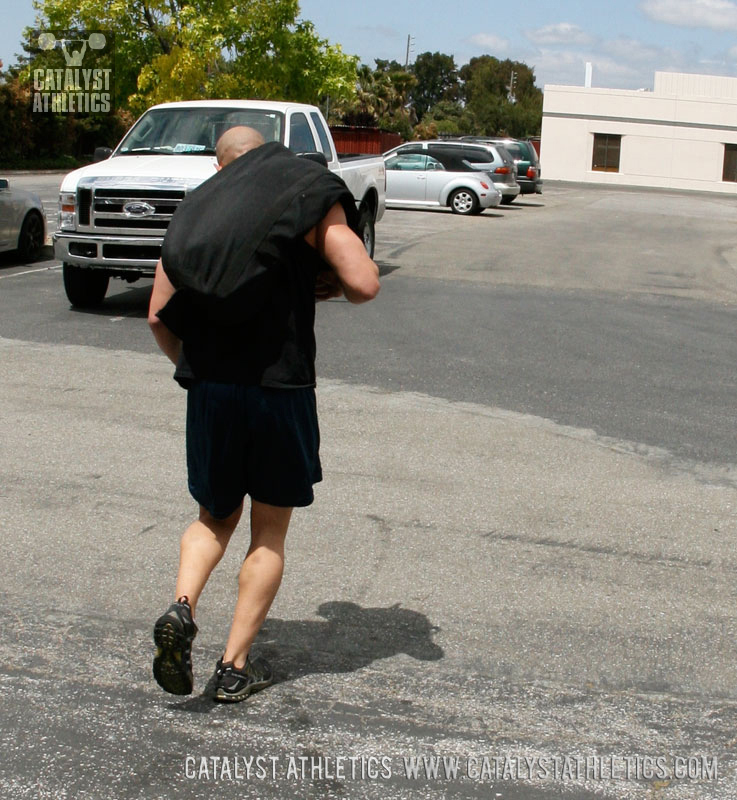 Jerk - heavy single; 90% x 1; 80% x 1 x 2
Push press - 84% x 3 x 3
Muscle snatch - heavy single
3 rounds for time of:
20 kipping pull-ups
10 overhead sandbag throws
Sandbag throws
: Start with a heavy sandbag on the ground between your feet. Lift and swing as if performing a KB swing, but throw the back behind yourself at the top of the swing.
Questions? Get answers here or post in comments.
10 Comments
Andrew Makely
2009-05-12
Jerk up to 230 then 215 195
Push Press 165,175,175
Muscle Snatch up to 160

Kipping Pullups x20
75lb DB Snatch x10
For 3 Rounds

9:30

Can't wait to get my sandbag!
tony
2009-05-12
in the picture from sunday may 10, what kind of lifting shoe is he wearing (the blue w/ red laces)?
Greg Everett
2009-05-12
tony - Asics. Good luck.
tony
2009-05-12
i had a feeling they were jade rhinos(ghosts) thanx anyway
shawn
2009-05-12
jerk 120kg 1x1, 105kg 1x2
push press 3x3 90kg

6 thrusters 50kg
9 kipps
12 burpees
4rds 1 min. rest btwn rds
Jonathan
2009-05-12
Jerk: Up to 205, then 185 x1, 175 x1, 155 x1
Push Press: 175 x2x3
MS: up to 130, failed 135 (arrghh!)
2 rounds for time: 20 KPU + 5-80# DB Swings: 2:01

Greg, my left shoulder is really giving me fits. Any recovery techniques other than ice after workouts, ibuprofen, shoulder dislocates? I don't wan to be a wus, but I also do not want to do permanent damage to those intricate shoulder muscles.
Greg Everett
2009-05-12
Jonathan - Get it checked out by a PT or similar before it gets worse. But yes, plenty of stretching, mobility work/warm-up, ice and ibuprofen will always be a good bet.
Jonathan
2009-05-13
Many thanks Greg! Will continue to do as you suggest and I plan to see a PT today.
Justin VanBeek
2009-05-13
Decided to try the qualifier workout for our region....

8 Deadlifts (300 lbs)
400 meter Run

3 RDS

- The run could have been a lot fast but the deadlifts felt good.... got bout 8:30, but with a huge push.. probably could have managed under 8 mins


jongb
2009-05-19
Jerk - 205; 185 x 1; 185 x 1 x 2
Push press - 165 x 3 x 3
Muscle snatch - 115x2, 135 (bad form x2)

3 rounds for time of:
20 kipping pull-ups
10 60lb DB Snatches
5:40
Workouts Menu
Workouts Home
Workouts Help
Exercise Library
Training Programs
Starter Program
Tomorrow's Workout
Text Only
Custom Program Design
---
---
Advertise With Us