Monday May 25 2009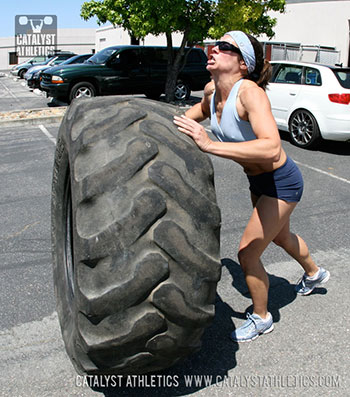 Snatch - heavy single; 85% of that x 1 x 5
Clean & jerk - heavy single; 85% of that x 1 x 4
Front squat - clean heavy single wt x 2 x 3
Plate twists - 3 x 30
Ab roll-outs - 3 x 15
Week 7
Questions? Get answers here or post in comments.
5 Comments
shawn
2009-05-25
snatch 5x1 85kg
c&j 5x1 110kg
f.sqt 3x2 110kg

metcon:
thrusters 60kg
wtd.kipps 10kg
15-12-9-6
30sec rest btwn rds
mama
2009-05-26
You are doing GREAT! Don't want to meet you in a dark alley!
Jonathan
2009-05-26
I'm a day behind, so...

Light Squat Cleans: 115 x2 x2; 135 x2 x2 (can't do anything overhead right now)
FS: 205 x2 x3
Plate Twists: 45 x30 x3
Ab Rollouts: 3 x15
Shrugs standing on Tom's abs: 10 x 135, 225, 315, 405, 495, 585, and then 8 x 695. He is preparing for more trucks to run over him. Crazy!
MOMMY
2009-05-29
is that one of the tires off my yukon?
Jeremy Stecker
2009-05-29
Whats the secret to posting pictures of girls like this on your site without them slitting you throat in the night?
---
Workouts Menu
Workouts Home
Read This First!
Workouts Help & Info
Exercise Library
Training Programs
Starter Program
Tomorrow's Workout
Text Only
Custom Program Design
---
---