Tuesday July 21 2009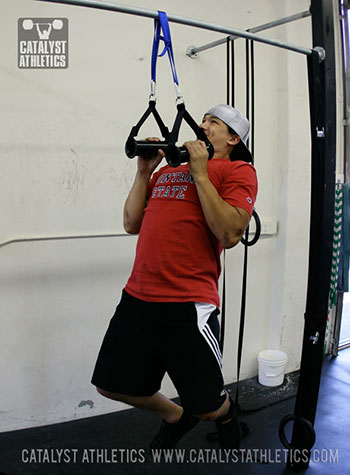 2-position snatch (floor, mid-thigh) - 75% x 5 sets
Snatch balance - heavy single (work up slowly to try to get 8-10 total reps)
3 rounds for time:
15 kipping pull-ups
10 box jumps
5 sandbag halfmoons (each side)
Questions? Get answers here or post in comments.
7 Comments
Chandler Alford
2009-07-21
This is going to be my first workout with sandbags, so how much does the sandbag need to weigh?
Chandler Alford
2009-07-21
I guess another question I have is what if I don't have sandbags available, what are the substitutes?
clinton bohaty
2009-07-21
Brand new to this website, have been doing crossfit for a year and half. Interested in what the concept you are trying to achieve. Do I understand this correctly about your WOD. You do olympic lift or powerlift movements then you do the second portion which is a metcon?

Thanks for any advice or clarification

In afghanistan with military, lots of time to work out...
Justin VanBeek
2009-07-21
Comp on Sat... Just working off my openers for Saturday

Snatch... Opener 209#... Worked up to 90%
88, 110, 132, 154, 174, 184, 189.. No misses... Feels good

Clean and Jerk.... Opener 264#.... Worked up to 90%
154, 198, 218, 228, 238... All good.. :)

Clean Pulls.. Opener X1, 284X1, 294 X 1

Sledgehammer Swings... Tabata... 6 RDS


Justin VanBeek
2009-07-21
Clinton here's what I would say...

There are Olympic Weightlifters that Crossfit...

Or there are Crossfitters that Olympic Lift...

Athletes on here are mainly the former rather than the latter... as am I... The main focus here is mainly to improve the Classical Olympic movements (Snatch/Clean & Jerk) but in addition we strive to improve our overall physical abilities and GPP by using Crossfit WODs
Aimee
2009-07-21
Justin- Good answer!

Chandler- I would say start at 30ish% body weight unless greg notes otherwise. If you don't have a sandbag, a plate is a good substitute.
Matt
2011-06-28
2 position Snatch 175 x 4 - 1 miss lost focus
Snatch Balance 225 in 8 sets
Met con w 45 plate, 30' box, kip - 4:00
---
Workouts Menu
Workouts Home
Read This First!
Workouts Help & Info
Exercise Library
Training Programs
Starter Program
Tomorrow's Workout
Text Only
Custom Program Design
---
---