Monday July 27 2009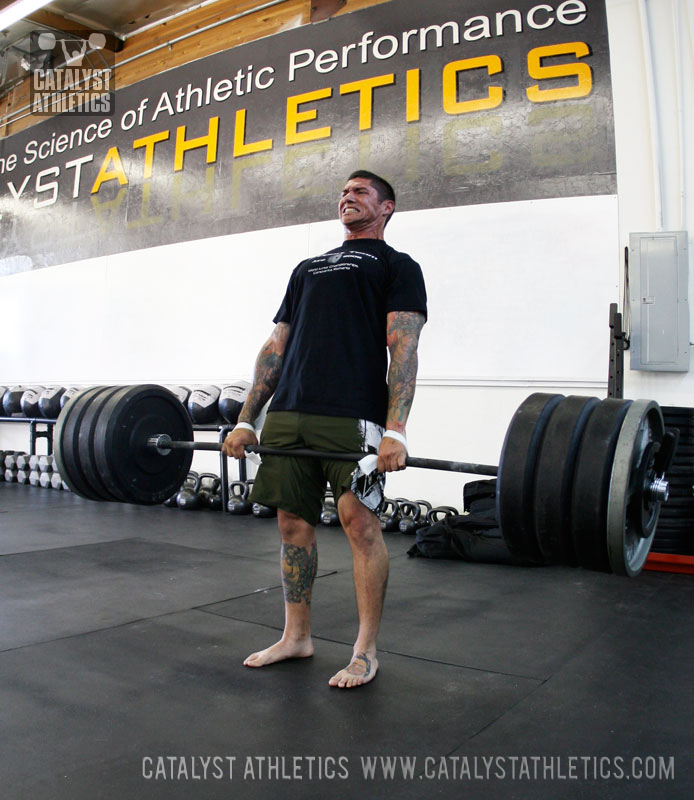 Back squat - 81% x 3 x 5
Push press - 76% x 3 x 5
Snatch pull - 96% (of snatch) x 3 x 5
GHD sit-up - 3 x 15
Rope climb x 5 total
Week 3
Questions? Get answers here or post in comments.
6 Comments
Aimee
2009-07-26
yeah LEO!

We are ready for you to move here and train with us everyday!!
Steve Smith
2009-07-27
Quick question:

Looking for new programing ideas and have started looking at your website. As you have the exercises listed here, are you wanting:

81% x 3 (Reps) x 5 (Sets)

or

81% 3 (Sets) x 5 (Reps)?

Thanks for your help!
Aimee
2009-07-27
Steve-
Check out the 'info' link next to the workout of the day for answers to all of these type of questions.

welcome!

Aimee
Jon
2009-07-27
Hi, I'm Jon and today was my first Catalyst workout. I came here via CrossFit and CrossFit Strength Bias and just wanted to say I'm thrilled to begin focusing on the Olympic lifts. No time frame in mind, maybe forever if I dig it and start lifting competitive weights. I'll probably have a bunch of questions and will try to find the answers myself, but please forgive me if I ask a stupid one here and there. In the meantime, can't wait for the second edition of the book! Cheers, Jon
Leo
2009-07-29
yeah baby i want to be a lifter. you guys rock
Andrew O
2009-08-01
Back Squat: 155, 165, 170, 175, 175
Push Press: 122.5
Snatch Pull: 140
3x8 GHDs
Workouts Menu
Workouts Home
Workouts Help
Exercise Library
Training Programs
Starter Program
Tomorrow's Workout
Text Only
Custom Program Design
---
---
Advertise With Us