Thursday July 30 2009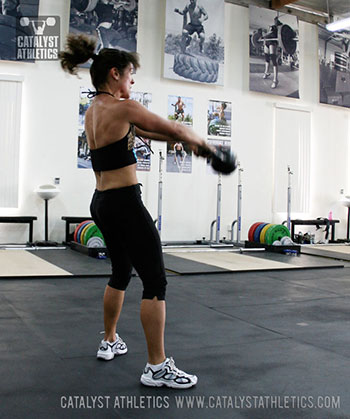 Clean & jerk - 75% x 2 x 7
Muscle snatch - 75% x 2 x 4
2-4-6-8-10-8-6-4-2 reps for time:
KB swings
Hanging leg raise
Questions? Get answers here or post in comments.
5 Comments
Josh Straiton
2009-07-29
hey guys i was wondering for the metcon, what percentage of bodyweight should be used for the kb swings? i was gonna opt out for 1.5 pood but just wanted to know if there is a certain percentage.
Greg Everett
2009-07-29
25% or so. your usual swing weight if you have one.
Chandler Alford
2009-07-30
Greg, I'm really enjoying your WODs. I did 120 for the C&Js and 60 for the muscle sn. Got 5:26 for met con with 2 pood KB. However, I've never done hanging leg raises correctly (according to the Catalyst Exercise video section), so I had to opt for doing them on rings with kipping. Future workouts will definitely include correct HLRs.
Lance
2009-07-30
Whats up guys, training is going well. In the 2nd week of a 10 week cycle I saw that you guys did back in April. First time out, I figured 10 as oppose to 16 weeks would be a good intro into the world of Olying(is that a word)lol.

Anyway, will keep you guys posted and thanks for all of your help getting the set to me. And thanks Aimee for the advice, I figured that about the % and the ice is a DEF!!
Andrew O
2009-08-01
C&J: 140
Muscle Snatch: 107.5
metcon: 6:26 with 50# DB
---
Workouts Menu
Workouts Home
Read This First!
Workouts Help & Info
Exercise Library
Training Programs
Starter Program
Tomorrow's Workout
Text Only
Custom Program Design
---
---