Monday September 7 2009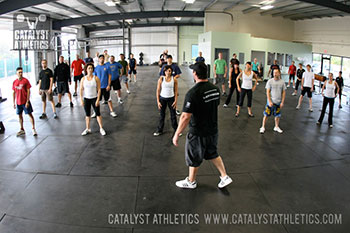 Power snatch + 2 snatch - 70% x 2 sets; 75% x 3 sets
Jerk - 75% x 3 x 5
Clean pull - 93% (of clean) x 5 x 5
Back squat - 65% x 6; 70% x 6; 75% x 6; 80% x 5 x 2
Ab wheel - 3 x 15
Week 2
Questions? Get answers here or post in comments.
17 Comments
tim
2009-09-07
So, gym is closed on monday something about a holiday or something. Im going to make this my off day for the week, and just shoot everything else 5 days in a row, good idea, bad idea, stupid question?
Andrew Makely
2009-09-07
Used an ice bath for the first time las week. Wow. That helped my latent soreness and fatique so much. Is there a rule of thumb for how often you should use one? Not that I am looking forward to getting in that water again, but I definately am not 21 any more and need anything I can get to halp me keep up with the volume of these workouts. Thanks for the help and great programming!
Greg Everett
2009-09-07
Tim - What a bunch of diaper babies. Go for the 5-day rally. You may want to drop a couple sets of the non-strength work.
Greg Everett
2009-09-07
Andrew - As often as possible, preferably soon after training.
Rob
2009-09-07
Sorry, I'm a bit new to full time Oly routine. Each week do we up the weight? I remember reading 3-5% in your book somewhere Greg, but does that apply to this routine?

Thanks,
Rob
Greg Everett
2009-09-07
Rob - Weights are prescribed.
Adam Gurule
2009-09-07
Power snatch + 2 snatch? So one power snatch then two normal snatches?
Greg Everett
2009-09-07
adam - yes.
Adam Gurule
2009-09-07
Thank you so very much.
Robb Wolf
2009-09-07
Nice gym!!

Fireed up for the Black Box Summit. OPT and Rutman under one roof!!
Aimee
2009-09-07
Robb-
are you kidding? Aimee & Nicki under one roof? woot woot!!

ha. jk. but maybe not.
Brent
2009-09-07
Powersnatch + 2 snatch - 135x2, 145x3
Jerk - 185x3x5
Clean Pull - 230x5x5
Back Squat - 215x6, 230x6, 245x6, 261x5(x2)
Tim
2009-09-07
yeah they are a bunch of diaper babies, the freaking close for pretty much all holidays... lame. so on wich non strength work are you refering to dropping some sets... I mean im probably going to push through everything as listed cause im crazy like that, but id like to know what you mean exactly.
Greg Everett
2009-09-07
Tim-

snatch, clean, jerk and variants. Right now the strength work like squads and pulls are the priority, so try to keep those intact as much as you can.
Andrew
2009-09-07
Power Snatch + 2x Snatch: 105, 111
Jerk: 150
Clean Pull: 186
Back Squat: 170, 185, 195, 210, 210
Brett
2009-09-08
Power snatch + 2 snatch - 130 x 2 sets, 140 x 2 sets
Jerk - 185 x 3 x 5
Clean pull - 225 x 5 x 5
Back squat - 205 x 6, 220 x 6, 235 x 6, 255 x 5 x 2

Mark Gleason
2009-09-11
PSN+2SN 2x105;3x115,120,120
JERK 3x135,155,160,170,170
SQUAT 6x225,245,265;5x275,285


---
Workouts Menu
Workouts Home
Read This First!
Workouts Help & Info
Exercise Library
Training Programs
Starter Program
Tomorrow's Workout
Text Only
Custom Program Design
---
---