Tuesday September 8 2009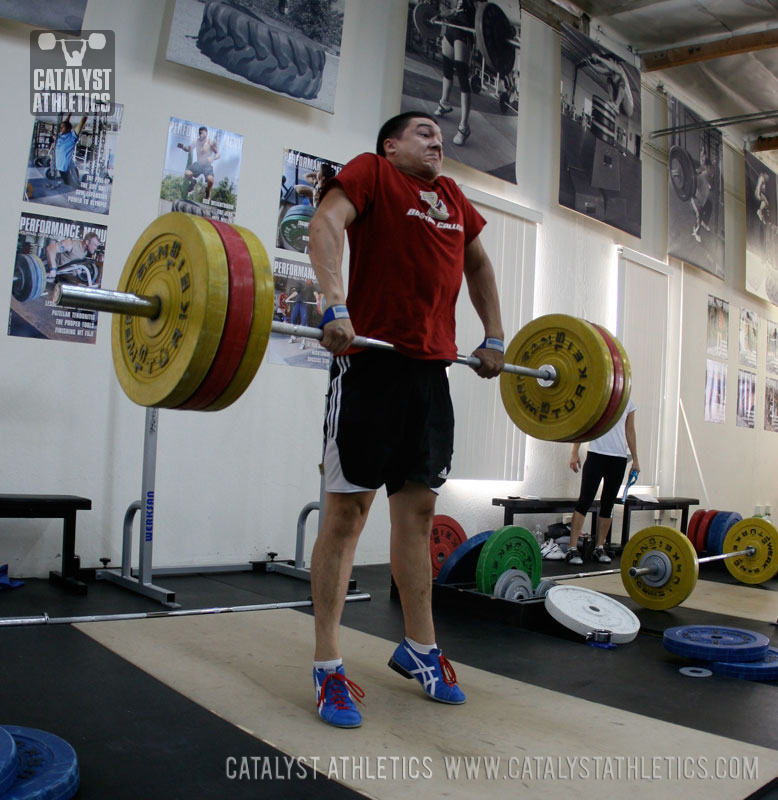 Power clean + 2 clean - 70% x 2 sets; 75% x 2 sets
Snatch balance - 65% x 3 x 2; 70% x 3; 75% x 3 x 2
Push Press - 78% x 5 x 5
3 rounds for time:
500 m row
3 rope climbs
Questions? Get answers here or post in comments.
10 Comments
Eric Egan
2009-09-07
are pull ups a good sub for rope climb?
Greg Everett
2009-09-07
eric -do 5 strict or 10 kipping pull-ups as a sub
Eric Egan
2009-09-07
cool,thanks
Rob
2009-09-08
Is the snatch balance a % of snatch or max snatch balance?
Matt Foreman
2009-09-08
Nice top pull position in that picture.
Andrew Makely
2009-09-08
Ahh ice bath. . . I may never see may balls again.
Eric Egan
2009-09-08
Rob,i asked the same thing last week and was told "either one since they should be pretty similar. If your snatch balance is more than your snatch, base the percentage off that. "
Brent
2009-09-08
Powerclean + 2 cleans - 175x2, 186x2
Snatch balance - 146x3x2, 160x3, 170x3x2
Push press - 176x5x5

Shoulders were smoked. Most shoulder activity in a while, but felt great just to be doing it again.

Metcon: 3 rounds of row 500m, 3 legless rope climbs in 10:43.
Brett
2009-09-09
Power clean + 2 clean - 171 x 2 sets; 185 x 2 sets
Snatch balance - 120 x 3 x 2; 130 x 3; 140 x 3 x 2
Push Press - 140 x 5 x 5
subbed for strict pullups - 12:05
MJ
2009-09-09
Power Clean + 2 Clean - 135 x 2 sets; 145 x 2 sets
Snatch Balance - 95 x 3 x 2; 105 x 3; 110 x 3 x 2
Push Press - 150 x 5 x 5

MetCon:
2 Rounds:
750m Row
15 Dead Hang Pull-Ups
Workouts Menu
Workouts Home
Workouts Help
Exercise Library
Training Programs
Starter Program
Tomorrow's Workout
Text Only
Custom Program Design
---
---
Advertise With Us