Tuesday September 22 2009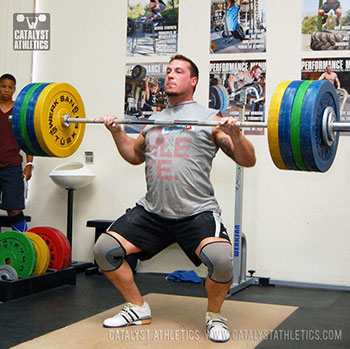 Power clean + clean - 75% x 4 sets

Snatch balance - 70% x 3, 75% x 3 x 2, 80% x 3 x 2
Push press - 82% x 4 x 5
3 rounds for time:
10 Turkish get-ups (5/side)
15 kipping pull-ups
Questions? Get answers here or post in comments.
7 Comments
coach wanker
2009-09-22
Thats a great photo!!! I wonder if Greg looked so relaxed when he was standing up from the squat??

MJ
2009-09-22
Power Clean + Clean - 150 x 4
Snatch Balance - 105 x 3 / 110 x 3 x 2 / 120 x 3 x 2
Push Press - 135 x 4 x 5
Dead-hang pull-ups - 4 x 10



Matt Foreman
2009-09-22
Plenty of pull on that one.
Chris Bullard
2009-09-22
Greg,

If you would please critique my snatch balance, started with this today as the training poundages didn't seem heavy enough. I never was able to do more than my snatch, but now it seems right. I want to make sure I'm receiving low enough. I started on this cycle day 1 and it's going great. One more question, is the Muscle Snatch percentage for tommorow based on the Snatch or Muscle Snatch.

http://vimeo.com/6698012


DB
2009-09-22
I'm trying to follow the workouts. What is power clean + clean? How is this different from just power clean? Thanks.
Greg Everett
2009-09-22
Chris - Looks pretty good - you could get under it a little more, but primarily work on smoothing out that hesitation when you first lock it out - that is, lock it out and ride it down to the bottom immediately rather than tightening up and then relaxing a bit to squat.
Greg Everett
2009-09-22
DB - It's a power clean followed by a clean.
---
Workouts Menu
Workouts Home
Read This First!
Workouts Help & Info
Exercise Library
Training Programs
Starter Program
Tomorrow's Workout
Text Only
Custom Program Design
---
---