Monday October 12 2009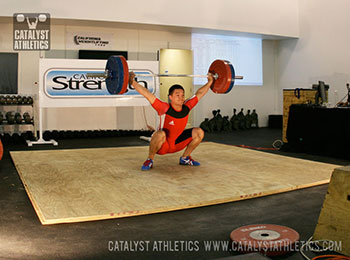 Hang snatch (above knee) - 73% x 3 x 2, 73% x 2 x 2
Jerk - 82% x 2 x 4
Clean pull off 3" riser - 80% (of clean) x 5 x 5
Back squat - 88% x 3 x 5
SIt-ups - 3 x 25
Ab wheel - 3 x 15
Week 7
Questions? Get answers here or post in comments.
10 Comments
Xi Xia
2009-10-11
Hi Greg and Aimee,

We just got the top part of a Vertec(same thing you got) for our gym. We have a similar metal pole in the gym and will be setting up there. I sort of remember how you had it setup at your gym but not clearly. If you have a spare moment, could you share a video or close up pictures of the fittings for your Vertec setup? Thank you!

xx

Travis
2009-10-11
Woo! Way to use your legs Steve Pan.
dan
2009-10-11
what weight class is steve in?
Dutch
2009-10-12
Steve!! Looking good buddy. COngrats.

So i guess they do have weightlifting meets inside... Interesting.
MJ
2009-10-12
Hang Snatch - 110 x 3 x 2 / 115 x 2 x 2
Jerk - 165 x 2 x 4
Clean Pull off 3" Riser - 185 x 5 x 5
Back Squat - 210 x 3 x 5
Situps - 3 x 25
Hanging Leg Raise - 3 x 15
Aimee
2009-10-12
Steve is an 85kg lifter.

Dutch... not everyone has the luxury of lifting with cows while their judges are sitting on sofa's.
Dutch
2009-10-12
You said it... It was straight luxury!
Robb Wolf
2009-10-12
Right on Steve! Congrats Amigo!

those Med-ball cleans must be paying off...
Steve Pan
2009-10-12
Thanks guys!

Dutch - Congrats on making your total man!

Rob - Don't give away all the training secrets...
Noah
2011-12-07
Hang Snatch- 3x2:55lbs, 2x2:55lbs
Jerk- 2x4:95lbs
Power Clean (off 3" riser)- 5x5:95lbs
Back Sq.-3x5:125lbs
GHDs- 3x25/Ab Wheel 3x15
---
Workouts Menu
Workouts Home
Read This First!
Workouts Help & Info
Exercise Library
Training Programs
Starter Program
Tomorrow's Workout
Text Only
Custom Program Design
---
---