The 2012 American Open, or The Weekend I Almost Killed Matt Foreman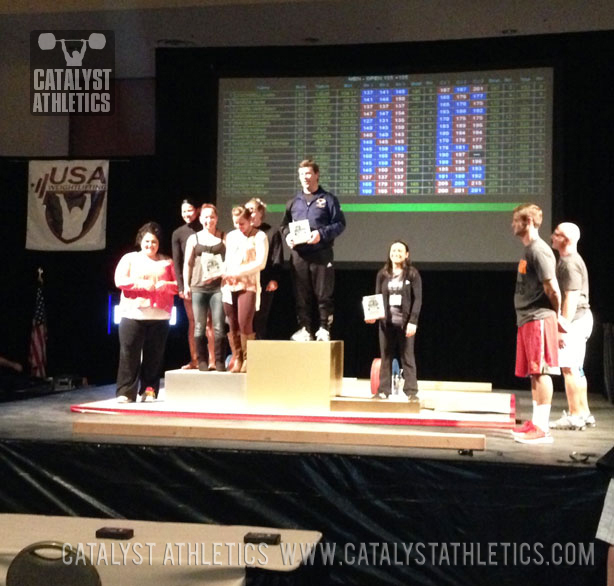 The dust has settled for the most part after the 2012 American Open in Palm Springs, California, so I'm going to see if I can do a recap of the weekend. This year we had 12 lifters competing—I believe that made us the second largest team there behind the juggernaut East Coast Gold (technically 11 since Caleb lifts unattached—details).
Normally the American Open is somewhere in the Midwest or on the East Coast. Getting to spend a December weekend in Palm Springs was incredibly refreshing compared to somewhere cold and snowy. The venue was in the convention center, which was attached to the hotel, and that makes these events so much easier when you're going back and forth. The schedule this year was unconventional for a few reasons, but this meant that we had lifters all day Friday, no one on Saturday, and lifters all day Sunday. There was definitely some poolside lounging happening on Saturday for the athletes who lifted on Friday.
Our good friend and prolific Performance Menu writer Matt Foreman was at the meet coaching two of his lifters in the youth world qualifiers Friday morning, so I recruited him to the coaching team for the rest of the weekend, which turned out to be about as fun as you could imagine, although we undoubtedly took several years off of his life with the stress.
Blake had the misfortune of having to be the first lifter from the team on Friday in the 69kg class. I think this is tough, because in a sense you have to set the tone. His session was moving very slowly with lots of weight changes, a spell of unconsciousness on the platform, and some expected administrative troubles. Blake opened at 90—and missed it. This was not the way I wanted to start the weekend, but I knew he would come back and make it. Often missing your opening snatch can be the death knell—it's extremely tough mentally to come back from that. But Blake came back and practically power snatched it on his second attempt. He wasn't successful on his third at 95, but at least he had a score on the board. It was clear he wasn't feeling great during his clean & jerk warm-ups, so we opened conservatively with an easy 115, but unfortunately that was all he had in him that day. Despite the fact that he was disappointed not to do the numbers he hoped for, he did a great job lifting at his first national competition. This is a guy who works long hours 7 days/week and has to train alone nearly every day. He's able to get here maybe once every two weeks if he's lucky. All that considered, his performance was actually pretty impressive.
Next up was Jolie in the 58kg class. Jolie's snatch warm-ups were spot on and we were confident she would go out and smoke all three attempts. Instead, the nerves of being on the national platform for the first time got to her a bit and she missed her opening snatch at 55 kg. Then she missed it again on her second. This is definitely the most nerve-racking situation you can be in. But Jolie came out one more time with 55kg and made it to get on the board, showing some real guts. Her clean & jerks went better with a little bit of the nerves out of the way, and she made her first two at 68 and 70, then narrowly missed her third at 72.
Next up was Alyssa in the 63kg class. This is where things started getting tricky. For some silly reason, I decided to lift this year—the first meet I've done in 5 years not including the tiny gym meet at Sean Waxman's place in June that I did to qualify. The problem was that my weigh-ins were in the middle of Alyssa's snatches. Matt took over the counting and preparation while I stayed with Alyssa on the warm-up platform so we wouldn't have to do the role switch in the middle of the process. Alyssa's warm-ups looked amazing, but honestly I was still nervous because she has had trouble with consistency, largely due to a lot of mobility problems overhead. We opened her very conservatively at 63 kg, which she made easily. She then made 66 and 68—three for three in the snatch at her first national meet. I was able to watch her first snatch, but then had to go weigh in. I was back in time for all her clean & jerks. Her clean & jerks were strong, with makes at 79 and 82 and a miss on the jerk at 85. A 5 for 6 performance at her first national meet and a great total for her.
Then of course was my session in which Mike was also lifting. With the odd schedule, rather than having a normal 105 kg session on Sunday, they did a combined 105/105+ session, which meant that I would have been lifting on Sunday with two of my athletes—that wouldn't work. I put in a lower entry total to get myself into the B session on Friday instead, which turned out to be more appropriate anyway. At this point I was already pretty beat and hadn't been eating or drinking much all day, but I expected that to be the case when I decided to do the meet, so I went along with it. My snatches in training had been very inconsistent lately, so I opened conservatively with 132 even though my last warm-up was an easy 130. My biggest fear going into the meet was bombing out—my ego can take a shitty total at my age and in my circumstances, but not making a total would be a bit too much to swallow for me. I jumped to 136 for my second and apparently forgot how to snatch because I missed it for no good reason. I made it on the repeat, which became a pretty nice hookgrip photo, making me feel special despite the weight on the bar, but it left me behind where I expected to be. My opening clean & jerk was an easy 165, so I selected 171 for my second, which was my plan. With the size of the session and the bad luck of many attempts before me, I had an unusually long wait between my first and second attempts. I don't know how much of a problem that actually was—my main concern was that the entire time I was sitting backstage waiting for 171, I was so dizzy that my lips were tingling. I went out and stood up with 171 anyway, although it crashed on me so the recovery was harder than it should have been. Already being dizzy going into it, the jerk was pretty much out of the question, but I attempted it anyway and of course missed. I repeated the weight on my third and was literally unconscious when I bailed out of the recovery. I watched the video afterward and there was a clear moment when I was out on my feet—my chin dropped to my chest like a boxer who just had his bell rung. Thankfully I didn't do it while still under the bar. So although my lifts were far lower than what I was shooting for, at least I didn't die.
Mike was having a rough day, being sick, but also too stubborn to lower his opener (sometimes once you get a number in your head, you just can't shake it). He opened with 135 in the snatch, but he couldn't quite make it. I couldn't see from my seat backstage, but I was listening and I was sure he got the third attempt because I didn't hear the bar drop, but then it came down. He withdrew from clean & jerks.
The final session of the day included Kara (75 kg), Chyna (75 kg) and Tamara H (75+ kg)—Chyna was on one platform and the other two on another. Thankfully we had a 3-person coaching staff with Aimee, Matt and me. I didn't get to see any of Chyna's lifts because I was coaching on the other platform, but she went out at her first national meet and made 5 of 6 lifts, even though she had to power jerk instead of split because of a foot injury that she's been dealing with for the last couple months. She snatched 63, 67 and 70, then clean & jerked 75, 79 and missed the jerk on 81.
Tamara was having a rough warm-up in the snatch with a few misses, and the timing of her opener was tough with all the shuffling that was happening in the back. She made her opener at 68, then was called for an elbow on 71 and couldn't quite come back and make it on her third attempt. She made up for it in the clean & jerks by powering 90, 93 and then 96 without any doubt.
Kara looked good in her warm-ups and made an easy snatch opener at 74. She then jumped to 78 and made a PR for this comeback, and narrowly missed her third attempt at 80. Her clean & jerks were strong, making 94 and 98 and then missing the jerk at 100. This total placed her fifth—four months after having a baby.
Saturday was thankfully a day off, so I spent most of it watching lifting with Matt, while most of the gang hung around by the pool. Matt has some amazing stories from his history in the sport, so he kept me pretty entertained all day.
We started Sunday off with Jessica's debut as a 63 kg lifter. This is probably the session I was most nervous about. Jessica's training was going very well for the first 8 weeks of the cycle, with a lot of PRs and big numbers. However, the next three weeks she struggled to cut weight to get to her normal 58 kg class, and the cutting was affecting her training and mindset severely. We literally lost three weeks of training. On Thanksgiving day, we decided that it was necessary to have her lift as a 63, so she had only about a week of normal eating and trying to get back the lost training time. Her snatch warm-ups looked great and she looked confident. Some timing issues meant that we had to take an additional lift in the back room before her opener, which she missed—this changed the mood a bit, but she went out and made her opener at 76. Well below what she's capable of, but with the way the previous month had gone, I wanted to be conservative. The goal for the meet was simply to make a total. She couldn't quite get 78 locked up on her second and third attempts. This took its toll mentally, and her clean & jerk warm-ups were fine instead of good, so we opened conservatively at 98. She smoked the lift so easily that she turned around mentally and made the jump easily to 102. Now came the part of the weekend that will piss me off forever—Matt, Kevin and I made the mistake of calling 104 for her third attempt, knowing that we needed to beat the current second place lifter by 1 kg because she was lighter. But we did the math wrong and none of us caught it in time—she needed 105 for silver. Jessica went out and did her job and smoked 104 also—I have no doubt she would have made 105 just as easily had we not screwed it up. This placed her third, but only losing silver by virtue of bodyweight, and only being 3 kg behind first place. Wait, it gets worse—a second place finish would have given us the team points we needed to win the whole thing instead of finishing second. It's easy to see it now and be frustrated, but the reality is that it was a tight race and the warm-up room was chaotic at that time—we simply made a mistake on the call and we can't fix it now. But despite that, Jessica came out and proved what she's capable of even with the rough patch she had going into the meet.
We had a bit of a break after Jessica's session and Matt and I watched the 69 kg women's session—and watched 19-year-old Jenny Arthur break both junior and senior American records, including a 127 kg clean & jerk. It was an incredible session.
Next up was Tamara S in the 75+ kg class. I knew Tamara was a meet lifter—she generally performs much better in competition than in the gym—but she went out and blew everyone away. She snatched 83, 87 and 90 and clean & jerked 105, 110 and 115, going 6 for 6 and making a 5 kg clean & jerk and 6 kg total PR. At the end of her session, she received the 6 for 6 award along with 2012 Olympian Sarah Robles, and placed fourth in a class with some very strong girls.
In the final session of the night, both Brian (105+ kg) and Caleb (105 kg) lifted. Caleb missed two snatch warm-ups, and then proceeded to make all three snatches at 145, 150 and 153—a PR at this bodyweight. Timing of warm-ups during his clean & jerks got a little screwed up and he had to take 150, 160 and 170 in rapid succession. But he went out and smoked his 176 opener, made 181 for a PR, then performed the most incredible clean bailout ever seen at 185—and I legitimately believe the only reason he missed was because he pulled the clean too damn hard. With that 5 for 6 PR performance, he placed fifth in a class of extremely good lifters.
Brian had a rough day. He looked pretty good warming-up for his snatches, but wasn't quite moving the way I expected. He made his opening snatch at 160, but under-pulled his second at 165. So he wouldn't have to follow himself, we bumped to 166 for his third and he had it overhead but not quite locked out. During his clean & jerk warm-ups, he was a bit dizzy but still looked strong. We opened with 200 as planned, but the clean crashed on him and he missed the jerk. He had to follow himself, so to buy some time, we moved to 201. He nailed the clean easily and jerked the hell out of it, but one elbow gave and he lost it. He had to follow himself again—this is a huge deal for a 300 lb weightlifter: three 200 kg clean & jerks with hardly any rest. Brian came out and nailed it on the third, coming back from a serious mental hit and securing a silver medal.
We got to finish the weekend accepting the award for the second place women's team, losing first by only three points. This was an amazing finish and well-deserved by the lifters. Aside from possibly being the most exhausting four days of my life, it was also one of the best experiences I've had, and definitely proved to me that we have something really special here at Catalyst Athletics.
Check out the
Catalyst Athletics Facebook page
for some photos and video from the weekend.
9 Comments
---
Mike Gray
2012-12-05
It was a great weekend. Huge thanks to Greg, Aimee and Matt for being incredible coaches!

Greg is 100% correct, listening to Matt tell stories and just hanging out with him was amazing. The guy is such a wealth of knowledge about weightlifting.
B3n S6z
2012-12-05
Can you write more about the unconsciousness, perhaps separately? I did a Crossfit Total workout once and nearly passed out during the deadlifts, at a much lighter weight than I normally do. I don't know what was going on. I'm pretty sure I was dehydrated, short on sleep, and possibly a bit sick or something that day, and pretty sure it wasn't the fact it was a quasi-competition, because I just don't get nervous or stressed about that kind of thing. I'm interested to hear other peoples' experience with this.
Matt Foreman
2012-12-05
And I loved every minute of it, especially hanging out with you and Mike. You're my kind of guys and you make me wish I trained up there full-time. You would have fit in perfectly with our gang back in the old Calpian days!
Mike Gray
2012-12-05
Im pretty sure we wont be invited back to that steak house again.
gmac
2012-12-06
STRONG WORK TO GREG and HIS ENTIRE TEAM!!
Freddy Camacho
2012-12-06
So proud of Chyna and all my friends from Catalyst Athletics. You were all fucking awesome. Greg and Aimee, you care so much about your team and your friends. We are all lucky to have you in our lives. It was great to finally meet Matt and hang out with him.I had such a great weekend. Can't wait for Nationals. Go Team CA!!!
Greg Everett
2012-12-07
B3n S6z -

It could be a simple vasovagal thing in your case--straining while holding your breath can lower blood pressure and heart rate enough to get dizzy and even pass out. A bit of air release can help relieve that. But everything you listed can contribute to being lightheaded as well.
T Sprague
2012-12-08
Given she was already on the podium, did you seriously consider loading 107 on the bar for Jessica and going FTW?
Greg Everett
2012-12-10
T Sprague -

In retrospect, I would have done just that
---