Weightlifting Training Camp at Mount Jahorina, Bosnia and Herzegovina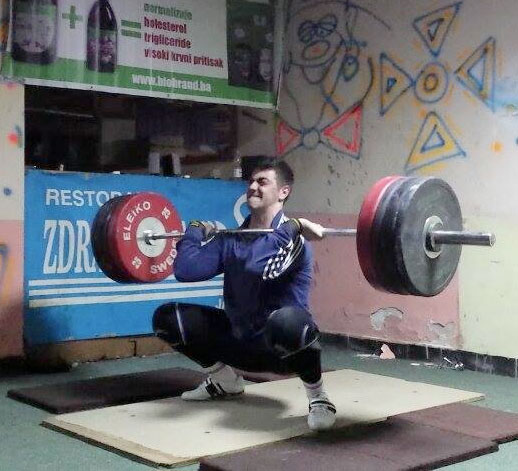 I have been a weightlifting competitor for about 15 years, and for the last four years, I have coached. I was a 10-time national champion my country, and broke a lot of national records. My best official results were not great: 122/153. The reason for this is that I didn't have a quality coach (my coach was a man who was never a weightlifter), as well as the fact that the state has nothing invested in our sport.
Neither weightlifters nor coaches in our state have scholarships or salaries. It is all on a volunteer basis and is without question absolutely amateur. All weightlifters and coaches are left to fend for themselves for competitions, supplementation and preparation.
Weightlifting in my town, Konjic, has a very long tradition and is the most important sport in the town. I coach a weightlifting club named Neretva (named for the beautiful river that flows through my town). In 2013, my club was the team champion of my country, for which I am very proud. Most of my competitors took places on the National team and even won individual medals (Alpe Adria tournament that is on the IWF calendar: Nermin first place in the youth, Asmir third place in the junior competition). With international competition from other countries, we have also won medals in individual and team competition.
The best members of my team are:
Nermin: 17 years old, 65 kg, 302 Sinclair
Adis: 18 years old, 89 kg, 299 Sinclair
Asmir: 19 years old, 296 Sinclair
Almira: 75 kg (due to injuries and other circumstances, has failed to implement the result of the training that is 92/112)
A few friends decided to help us and pay for the preparation of two of my members, Nermin and Adis. Also present was another girl named Olivera, who competed for another club, but officially I was her coach. Olivera in 2013 placed fifth at the European Championships in Albania in the -75 kg category with lifts of 82 kg and 105 kg.
A training camp was organized on Mount Jahorina, which is located 30 kilometers from the state capital, Sarajevo. The mountain is known for its skiing terrain for because it hosted the 1984 winter Olympics, by for our country is known, apart from the war that separated it from the former Yugoslavia in 1992.
Conditions on Mount Jahorina were pretty good. Altogether, we spent 15 days on the mountain and in that time we had good quality food, and the only available swimming pool. Below I highlight several important details from the preparation.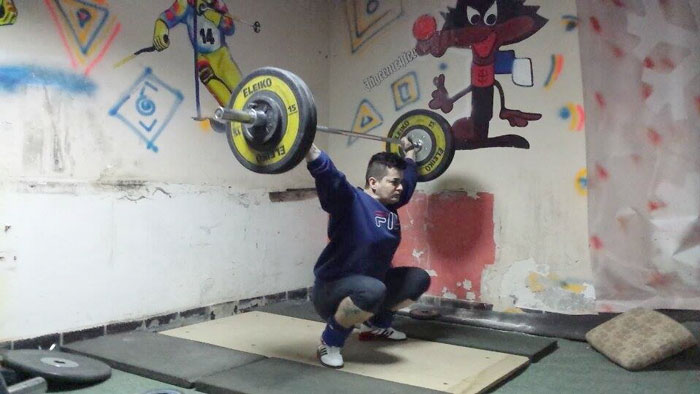 Training
Although I knew that I would do the preparation by practicing a Bulgarian-style program, I confered with many friends, among them Greg Everett. Greg suggested me to Monday, Wednesday and Friday I keep two heavy training sessions as follows
[Editor's note: credit for this basic structure goes to Steve Gough]
:
Morning
Front squat max
Snatch max
Evening
C&J max
Back squat max
Tuesday, Thursday and Saturday would be the only morning training as follows:
Power snatch max
Power clean max
Front squat max
It seemed easy to me and the first days we used the training scheme that Greg proposed. Unfortunately, I found that my competitors could not handle heavy front squats and competition lifts every day, and I adjusted them and I decided to organize the rest of the program a little differently:
Monday , Wednesday and Friday:
Morning
Front squat, 70-75% x 1 x 4
Snatch max, back off to 80-85% x 2 x 3
Abs
Evening
C&J max, back off to 80-85% x 1 x 3, increasing the weight
Back squat / front squat max, back off to 80-85% x 3 x 3
Hyperextensions & Abs
Tuesday, Thursday and Saturday would be just a morning training session as follows:
Front squat, 70-75% x 1 x 4 ,
Power snatch / snatch, 75-80% x 2 x 5 ,
Power clean / C & J, 75-80% 2 x 5 ,
Push Press / Snatch push press 3x5 ,
Snatch / Clean pull 80-85% x 2 x 5 ,
Hyperextensions
This turned out to be a better solution and the lifters were able to sustain it.
Supplements & Recovery
All the lifters used creatine monohydrate, L - Arginine, Beta Alanine, ZMA and Horse Power on heavy training days.
After each workout, alternating hot and cold showers are used, which is great for recovering. Also after each workout, they spent 5-10 minutes in the pool with a nice easy swim.
Results
What is specific to all three of my competitors is that they did not want to use the Bulgarian system of training, and I did not allow them to perform maximal squats because I was afraid of injuries.
Before/After Camp
Snatch
Olivera: 80 kg / 90 kg
Nermin: 95 kg / 100 kg
Addis: 110 kg / 117 kg
Clean & Jerk
Olivera: 100 kg/110 kg
Nermin: 102 kg / 130 kg
Addis: 130 kg / 137 kg, clean 142
Front Squat
Oliver: 125 kg / 145 kg
Nermin: 145 kg / 155 kg
Adis: 155 kg / 175 kg
Back Squat
Olivera: 155 kg / 170 kg
Nermin: 165 kg / 180 kg
Adis: 190 kg / 210 kg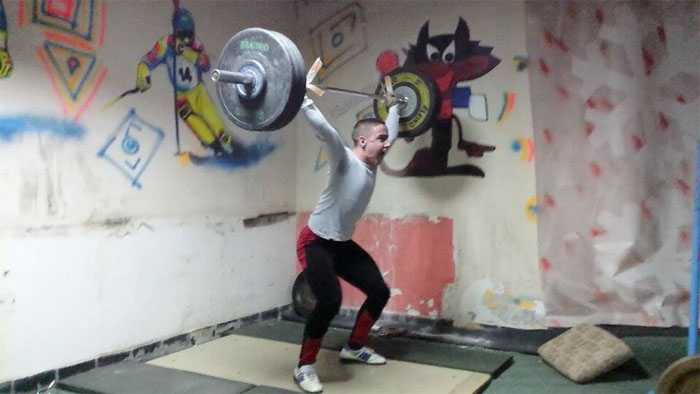 Psychophysical State of Athletes During Camp
Olivera, Adis and Nermin had difficulty withstanding this kind of training prpgram. The last two days preparing failed on the psychological level, although I am constantly working to raise the morale of their training, but they could no longer physically endure constant attempts at the maximum weight, and making new weights in their back off sets.
Constantly they were tired, but what is most interesting is that their training was better than previously. However, I was not able to solve their mental decline and I had to break up further training and return to a more regular program.
Conclusion
The program I conducted with my competitors using Bulgarian style programming is desirable and acceptable, but I think that 21 days is the maximum that can be implemented in our circumstances (above I stated that our sport in my country is absolutely irrelevant and nobody takes care of it). Even if the necessary conditions are met, I'm not sure it can be carried out over a longer period of time. I'm also of the opinion that without steroids, nobody can train constantly with the Bulgarian system of training.
1 Comments
---
Luke
2014-03-03
A frank and good overview of what you had done I think. After watching the Bulgarian lifting doco recently the system appears to be more taxing psychologically then physically.
---