A Letter to Catalyst Athletics (and Everybody Else)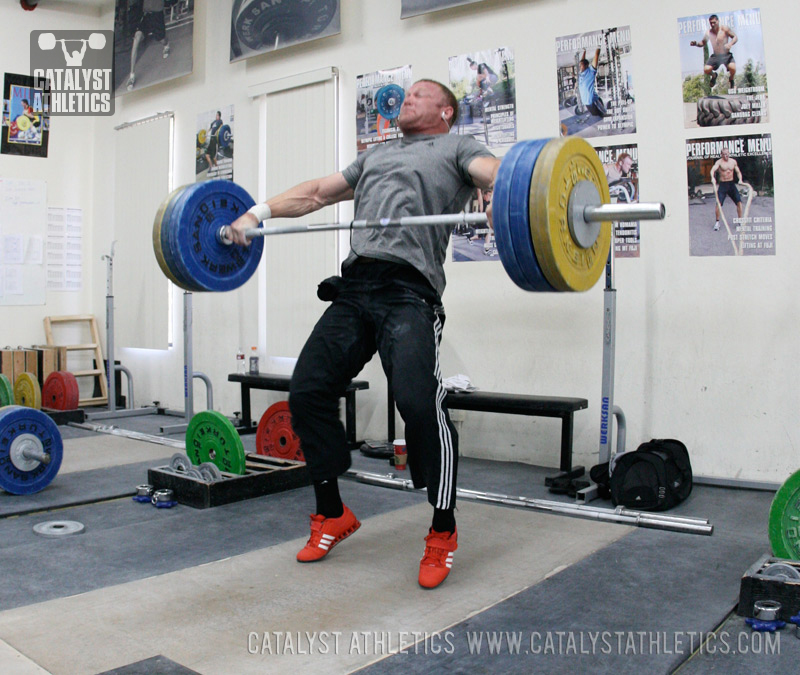 Do you ever get embarrassed when you think about some of the stupid things you said when you were younger? I think we all probably do. We remember some idiotic comments we made, things we knew we shouldn't have said out loud, and we wonder how our heads ever got jammed so far up our butts. I cringe sometimes when I think about stuff that came out of my mouth when I was in my twenties.

Over the years, I've changed a lot. That's normal, I guess. We all grow up and mature, and hopefully we figure out better ways to get along with people as we get older. When I look at who I am, I think there are two main things that have made me a better person.

#1- Knowing when to keep my mouth shut.
#2- Being able to show appreciation and gratitude to good people in my life.

The first one has become a pretty reliable weapon, that's for sure. Holding my tongue has taken a lot of practice, but it pays huge rewards. However, the second one is what I want to talk about here…giving thanks to people who deserve it. I've been thinking a lot about this lately, the idea of showing gratitude to the special individuals I know. Some things have happened in my life lately, you see. I suppose you could say I've really learned what it means to be thankful.

So I'm going to say thanks to a couple of people, and then I'll tell you about something that I didn't think I would ever write about.

The first thing I want to do in this post is thank Greg and Aimee for giving me the opportunity to write for Catalyst Athletics. I was in the gym training recently, and I realized that next month will be the four-year anniversary of when I started writing articles for Performance Menu. Greg, Aimee and I met at a meet in San Diego in the summer of 2008, and they asked me to write my first article for the magazine a few months later.

Now here we are in 2012, and I think the official count is something like 46 articles, 34 blog posts, and one book that I've written under the Catalyst Athletics name. Every single one of these pieces has meant something to me. They haven't all been perfect, but I can honestly say that I've worked hard and given the best effort I could come up with on each one. And publishing Bones of Iron has been one of the highlights of my two decades in weightlifting. All of these things have been made possible by Greg and Aimee, and I owe them both a debt of gratitude. I wanted to say that in front of everybody.

So the other thing I said I was going to mention… I guess I'll just say it plain and simple. My father died two months ago. I haven't talked much about it. I thought about saying something about it on Facebook because some of the people on my friend list knew my dad, but I didn't. I don't know why. I wrote a post on this blog a while ago about work ethic, and much of it was about how I learned to be a hard worker from the example my father set for me. I posted it on June 4th, and he passed away exactly one month later. I was sitting next to him when he drew his last breath, along with my mom, my brother, and my wife.

The last thing I said to him before he passed away was, "Thanks Dad." I don't know if he could hear me at that point, probably not. A week later, I delivered the eulogy at his funeral. I tried as hard as I could to make sure everybody knew how special he was, how grateful I was to him for giving me the life I have. And I learned things during all of this. It makes me think about something Marcel Proust wrote; "We do not receive wisdom, we must discover it for ourselves, after a journey through the wilderness which no one else can make for us."

Many of us like to think we're pretty independent and self-reliant. There's something cool about feeling like you've made your own way in the world. It's empowering because we get to live our lives with this idea in our heads that we're strong enough to handle everything on our own. I've certainly felt this myself. And because I know that weightlifting attracts very tough personalities, I have a feeling that many of you who are reading this can probably relate to what I'm saying.

But when my dad died, I guess I had to take a step back and really confront the knowledge that none of us got to where we are without some help from others. Whatever your personal story is, there's no way around the fact that you've had some assistance with your accomplishments. No matter how much you might want to act like you're a big bad lone wolf who doesn't owe a damn thing to anybody, the truth is that somebody in your journey has given you something that helps make you what you are.

Saying thanks to people who help you out in these ways is a beautiful thing. It's the right thing. And I think it's something you should do while you've still got the chance. I've had a lot of struggles in my life, hard blows I've had to overcome to accomplish the things I want. My ego has always told me that I conquered these obstacles because of my inner strength and determination. It's such a great boost to your pride when you convince yourself that you alone are the source of your success. But there's a problem there, brothers and sisters. I didn't make it alone. None of us did. Somebody gave us life, and other people have given us the chances we needed. If you think about it, you've had times when you needed somebody to give you a shot at something. It might have been when you needed a coach to agree to work with you, or maybe when your future spouse decided to trust you and give the relationship a try.

People have given you openings in your life. You made the most of these openings and you turned them into huge successes through the quality of your character and personality, but it all started with an opportunity that came from somebody else. And when we look back now, we all know who these people are.

Do yourself a favor and thank them. They deserve it.