Weightlifting Technical Glitches I'm Seeing A Lot These Days: Part 2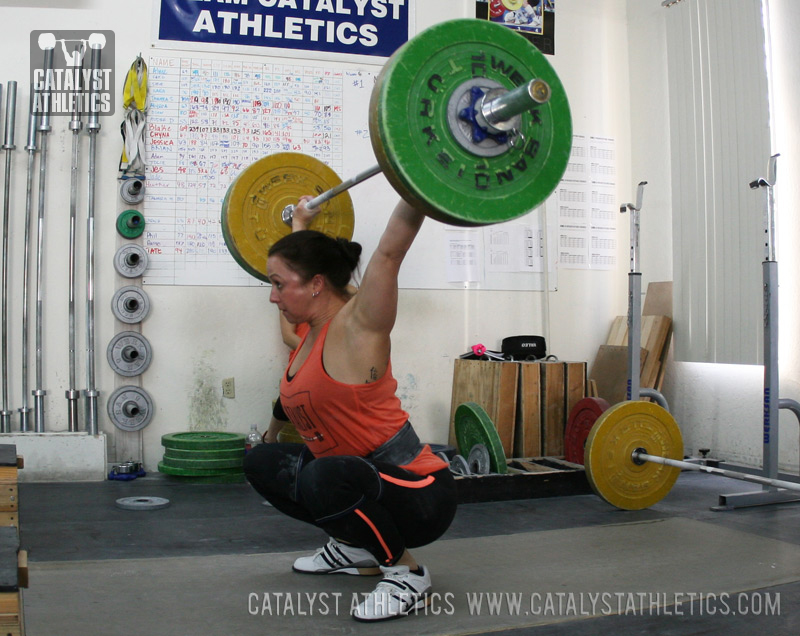 Okay, it's time for the sequel. A couple of weeks ago, I started a three-part series of blogs about technique problems that are running rampant with new lifters these days. The first one was about the deliberate slow pull from the floor.

This one is about the jerk. Big surprise, right? The jerk is a nemesis for a lot of you. You spend all day cleaning big weights and then watching them crash down to the platform when you try to stick them overhead. When it first started, it was frustrating. Now, you've been having the same problem for a long time and your feelings about it have moved way past "frustration." You're emotionally damaged at this point. You can't complete your clean and jerks because you can't finish the overhead movement, and it's making you question your value as a human being.

It doesn't have to be this way, brothers and sisters. Help is available to you.

**A small group of you are naturally good jerkers, and you never miss them. So the description I just wrote doesn't apply to you. Great, that's awesome. But keep this in mind: you can make a lot of jerks and still be doing some things wrong. I see a lot of people who have no problem completing the overhead portion of the C&J, but their technique still looks like goat vomit. They make jerks because they're strong and the weights they're handling are still relatively light. But the movement has problems that are going to limit their ability to jump up to a higher level of success.

Most of you probably need some help with the jerk. That's basically what I'm saying. And I'm gonna give you a few tips that might fix your wagon a little bit. We'll break this up into two sections…front leg problems, and back leg problems (this is obviously all about split jerks).

Front leg problems: Without a doubt, the biggest problem I see these days is the position of the front leg in the split jerk. Now, I need you to be able to visualize this with me. Imagine you're watching somebody do a split jerk, and you're standing directly to their side (either left or right). Got it? Now, visualize the moment when they punch into their split position, with the bar locked overhead. Think about it like you're looking at a direct side-angle photo of a lifter in the split. I want you to visualize that front leg. The shin of that leg is basically supposed to be straight up and down. If you want to actually see what I'm talking about, get on a website that has a lot of photos of top international lifters. If you're on Facebook, hookgrip is the best one. Scroll through the pictures of lifters who are in the split jerk position and look at their front leg, and you'll see what I mean. That front shin is almost always straight up and down. It looks like a fencepost sticking out of the ground. This is one of the keys to being a good jerker because it's usually an indicator that the athlete has even weight distribution between the front and back feet. But the big problem I see these days is athletes who have that front shin tilted forward when they hit their split position. The shin is angled too far forward, so the knee is more aligned over the toe. THAT'S BAD!!!! If you're doing this, you need to work on modifying your technique. If you don't have a good coach to watch you, you'll probably need to use a camera and record your lifts so you can take a look at them later. If that front shin is tilted forward when you hit your split, you've gotta get it fixed. How do you fix it? Be an athlete and put your body in the right position, for god's sake. Think about some kind of technical cue that might clarify it for you, like "Longer step forward with the front foot" or "Even weight on the front and back foot."

***Now, I'm absolutely positive that a few of you are going to look around for photos of top lifters who have the shin tilted forward, just so you can have the contradicting point of view and try to disprove what I'm saying. You're gonna do this because you have a deep-seeded need to disagree with everything, and it's probably connected to a lack of love from your childhood or something. So let me openly say that I KNOW THERE ARE EXCEPTIONS TO THE RULES, DAMN IT!! You'll occasionally see a high-level jerker with some forward angle of the front leg in the split. But it's rare, and I'll toss out the idea that some of these lifters aren't great jerkers. Just because they're on the World Team, it doesn't mean they're doing everything right. The jerk is probably still their nemesis, even though they're better than almost everybody. The point I'm making is that you have to look at how MOST of the best lifters do it MOST of the time. That's what gives you the best example to learn from.

Back leg problems: This one is quicker and easier to describe. Visualize the split position again, okay? Now, look at that back foot. If the heel of that foot is planted flat on the floor, that's a problem. It's probably causing the entire back leg to be basically straight, which can cause a lot of other problems with hip position, etc. The back foot needs to have the heel off the floor, which allows the back knee to have a moderate bend. This is another factor in making sure you've got even weight distribution between the front and back foot. Just get on frickin hookgrip and start looking at side-angle jerk pictures, and you'll see what I mean. And YES, you'll see a few top lifters who have the heel planted flat. But you won't see many. The vast majority of them will have that heel-up-and-back-knee-bent position I'm describing. Also, the back foot should be pointed basically straight forward (you would need to watch the lift directly from the front to see this). If it's planted flat AND at a side angle, you've got problems. SO FIX THEM!

Whew! That was a ton of info. I just realized that I wrote a lot of this post in all capital letters. In the computer world, writing things in all caps means you're shouting. WELL I AM SHOUTING, OKAY? THAT'S BECAUSE THIS STUFF IS IMPORTANT!! I HATE SEEING PEOPLE DO IT WRONG, AND I REALLY HATE IT WHEN PEOPLE DO IT WRONG AND THEN TRY TO MAKE A CASE THAT THEY'RE DOING IT RIGHT, ESPECIALLY WHEN THESE PEOPLE HAVE WEIGHTLIFTING EXPERIENCE THAT YOU COULD FIT ON A POST-IT NOTE!! GHAAAAA!!!

Sorry, that was a bit much. I'm gonna go play with my cats before I have a heart attack.

Fix your jerks, please.

You May Also Like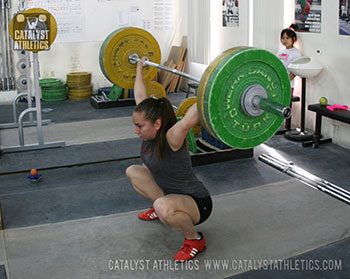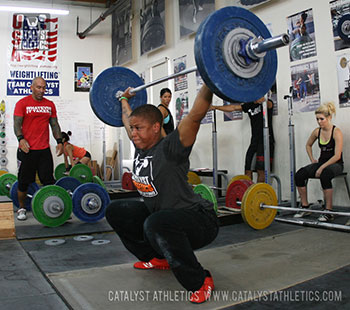 6 Comments
---
Al Towers
2013-11-12
In watching the world's the other week I saw a lot of lifters power/squat jerking, way more than I had ever seen before. Even many of the top lifters were power jerking. I have also read that some people think the power/squat jerk will overtake the split jerk in usage in the next 10-20 years, which kind of makes sense to me, we switched from split cleans/snatches to squats for a reason, right? What are your thoughts about the power/squat jerk, especially given that these technique flaws that you see so commonly are split jerk specific?
Aaron
2013-11-12
Thanks for the article Matt!! At my competition last weekend, I made a 106 snatch and then opened my C&J at 110. It was almost embarrassing.

RE Power Jerks: The argument for power/squat jerking is that you can get lower under the bar, but in the Jerk, the bar doesn't have as far to go as in a clean or snatch in the first place. Additionally, a lot of lifters can Jerk anything they can clean, so there's no need to modify what they're doing there. Recovering from a proper split is also less taxing than doing a narrow grip OHS with your max clean. Just my $0.02.
Matt Foreman
2013-11-12
Hey Al and Aaron,
It's funny you ask that question about squat jerking. When I started weightlifting, I remember a coach telling me, "Squat jerking is the wave of the future. It'll totally replace split jerking eventually." That was in 1990:) So I don't think we'll ever see a complete movement to squat jerking, mainly for the reasons Aaron mentioned about it. It takes a very specific kind of athlete to squat jerk effectively. At the end of the day, most people will have more success with split jerking.
Lincoln Brigham
2013-11-13
"When I started weightlifting, I remember a coach telling me, "Squat jerking is the wave of the future. It'll totally replace split jerking eventually."

Yep. I've been hearing the same thing since forever.
There are a limited number of people who COULD do a squat jerk. Among those, there's an even smaller number who SHOULD.
Adam Young
2013-11-19
Hi Matt nice work good to see you're still envolved in lifting. Happy Holidays.
Josh Arcona
2013-12-04
What are your thoughts on the front shin being tilted backwards. I tend to see this with newer lifters more. Is it just a case of being timid to have that bar directly over their head or is there more to it? They stepping forward with just their foot instead of transferring their weight. Are there any drills that can help to alleviate this? Thanks.
---