2014 National Championships Recap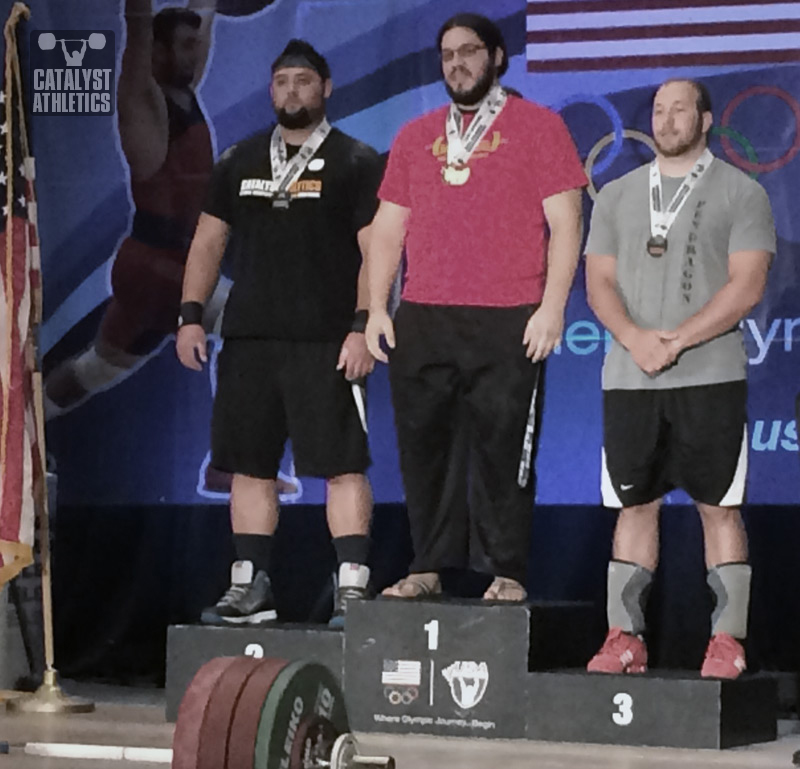 This past weekend, Catalyst Athletics took 10 lifters to the National Championships in Salt Lake City. It was a long weekend, but it was a well-run meet in a great venue.
Jes Liao (48 kg) and Blake Barnes (69 kg) were our first lifters on Friday. Both lifters have had a rough past couple months with training. Jes in the last couple months has slept at home only a handful of nights and only trained at Catalyst two days each week at the most because her job has had her out of town for a client. Blake began having some back problems several months ago and was unable to perform any lifts from the floor for a couple months, and was unable to do anything very heavy. Only in the last several weeks has he been able to snatch and clean off the floor with any heavy weight, and he would have days when he would have to stop lifting partway through his workout.
Jes and Blake's sessions ran extraordinarily slowly—overall the meet was run very well, but there seemed to be some serious trouble during this time keeping everything running in a timely manner. This meant a lot of waiting and extra warm-up lifts, especially for Blake. He absolutely smoked his opening snatch at 103 kg… and then dropped it as he was standing up. It was definitely the kind of miss that you can usually attribute to surprise by the lifter of how easy it flew overhead. But he came back and made it easily, and then went on to make an easy 108 on his third attempt. Blake then made his first two clean & jerks at 131 and 136, but dropped his 141 clean after racking it. This was an all-competition-PR performance—made more impressive considering the troubles with training he's had lately.
Jes had to take an unexpected additional warm-up snatch because of an extended wait for her opener, and it was a bit shaky overhead, which obviously increased her nervousness. She missed her first two snatches at 53 kg, and then got herself together and made it easily on her third attempt. Because of her struggle, we lowered her opening clean & jerk to 67, which she made easily. After missing her jerk at 69, she came back to make it on her third attempt, which meant a competition PR clean & jerk and total despite not having a great day.
Up next were Danielle Welihozkiy (53 kg) and Chelsea Ryan (69 kg). Danielle had a serious disruption with her training (marriage) six weeks before nationals and had only returned to lifting after a long break another couple months before that. Her opening snatch at 67 kg flew up… and then behind her, although with a serious fight, she almost saved it. She came back and made it on her second attempt, and then couldn't quite hang on to 70 on her third. Her opening clean & jerk at 80 was decent despite being a little off with her timing receiving the clean and standing from a dead stop. On her second and third attempts at 82 kg, she couldn't quite pull it off—she was basically blind in one eye and half dead from getting a far too big dose of ammonia before her first 82 attempt.
This was Chelsea's first national meet, and she managed quite a performance. Her opening snatch at 79 was easy, but her second at 82 was a little slow on the turnover and she pressed it out, but came back and made it easily on her third attempt. She then clean & jerked 97 and 100 with no problem, and came close on her jerk at 103. Her 182 total placed her sixth.
Alyssa Sulay (63 kg) finished off Friday in the last—and very late—session. She's been struggling with some pretty bad wrist pain the last couple months and some recurring shoulder problems, but still came out with a strong 72 kg opening snatch, which is the highest she's ever opened with. Her shoulder and elbow gave out overhead on her second snatch with 75, but she came back and made it on her third attempt to match her best in competition (but this was 4 kg above her best in a national competition). Alyssa's opening clean & jerk at 89 was easy. She caught her second clean at 91 a little too far back and had to readjust to recover and was dizzy, but still almost made the jerk. Because of timing, we increased to 92 for her last clean & jerk, but despite a strong clean, she lost the jerk forward. Even with only one clean & jerk, she totaled 4 kg above her best previous national meet.
Saturday was a bit less work with only two lifters. First was Zack Height (85 kg), who has also had a tough couple months of training due to some knee issues and hasn't been able to squat or clean heavy in that time. He nailed his opening snatch at 120 kg, but missed the next two attempts at 125 kg. His opening clean & jerk at 140 was no problem, but the pain in his knee made him sit too far back to make his second clean at 145. However, he gutted it out on his third attempt to come back and make 145.
Jess Salvaggio (58 kg) was next. After a series of excellent warm-ups, she went out and unexpectedly missed her first two snatches at 78, but then came back and smoked it on her third attempt. She clean & jerked 98 on her opener with a tough clean and we moved to 100 to secure a bronze medal and set her up for a silver medal with 102 on her third. Unfortunately, after a much better clean of 100 on her second, she missed the jerk, but came back and made it on her last attempt to win bronze.
I lifted in the first session Sunday morning. My training had been going well until the previous Saturday when my adductor made a nice popping sound while breaking a snatch pull off the floor. My last couple workouts the week leading to the meet were not great because of the pain, but after a lot of Indocin and finger-crossing all week, it felt decent when I was warming up for my snatches. My left elbow broke overhead in my opening snatch at 137 and I made it on my second attempt, then snatched 141 on my third. By then I was feeling my adductor more, but it still wasn't too bad. I was red-lighted on my opening jerk at 170 but made it on my second (several people told me afterward that both jerks looked essentially the same). I cleaned 175 on my final attempt, but I just didn't have any gas left for the jerk. These weren't the numbers I was aiming for, but at 34 and after two days of coaching and a groin pull, I can live with a 311 total and fifth place.
Next up was Tamara Solari (75+). We went into the meet with the goal of bronze and possibly silver. However, Tamara wasn't feeling great, and we lowered her snatch opener a bit to 87, which she missed, but then came back to make on her second attempt. She missed her third attempt at 89, which put her behind on the snatch, but we rely on her clean & jerk to close the gap. Because she wasn't feeling good, we lowered her opening clean & jerk to 115 to secure the bronze medal position. She made it easily, but then couldn't quite manage 120 on her second and third. While she was disappointed in the actual numbers, she still finished with a bronze medal.
Brian Wilhelm (105+) wrapped up the long weekend in the last session. Brian has been struggling with injuries for the last two years. His wrist prevented him from doing any overhead work for a few months. Then at his first meet back to qualify for this Nationals, he strained his groin and lost some more training time. He looked good during his snatch warm-ups, but we still lowered his opener by 3 kg to be conservative and secure placing. He snatched 155, 158 and 160 to secure silver in the snatch. Similarly, we were conservative on his clean & jerk opener, lowering it to 197 to lock in his silver medal. I told him that if he made that opener and guaranteed the silver medal, his last two weights were totally up to him. We took him to an easy 205 for his second attempt, and then to 212 on his third, which he nailed for a very enthusiastic crowd. If you're reading closely, you just realized that he made all 6 out of 6 lifts, which is very rare—he was one of only two or three to do it that weekend. This was just about as good of a way to possibly end the weekend for Catalyst Athletics, and a great comeback meet for Brian.
The Catalyst Athletics women's team earned the bronze medal for the second year in a row behind the team with the most national championship wins in the country, and a team with stipend-supported lifters.
Thank you to Matt Foreman, Aaron Ryan, Blake Barnes and Aimee Everett for their help in the warm-up room throughout the weekend. I wouldn't be able to manage this big of a team on my own.
You May Also Like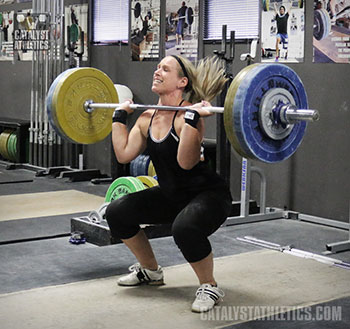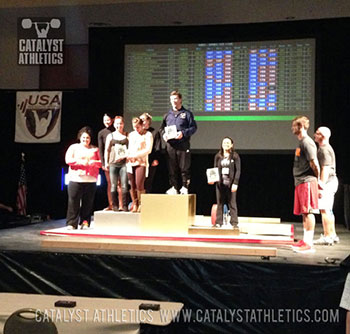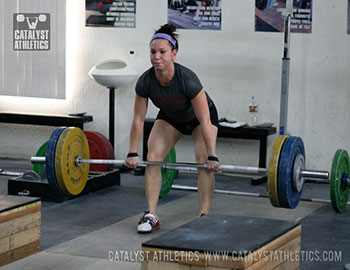 ---